No snow,
but we've walked home
from school, so— spring.
Or fall. At the Rexall's on Fleming Road,
on red plastic stools
at the yellow counter
you buy me the ten cent cherry Coke.
For you, the five, since all you have
is fifteen cents.

We are both eleven, and count the time
between our birthdays. I
am younger by two months.

Then to my house and the couch
in our garage, the one with broken
springs, the couch that soon
will be Goodwill's, but not today.

We jump
and jump
until the dog goes crazy
and my mother calls out the window
it's time to go home.

One last bounce. You say
you've never had so much fun
in your whole life.
© by Diane Lee Moomey.
Used here with the author's permission.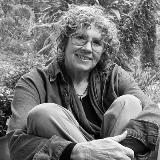 Diane Lee Moomey grew up near the Great Lakes and, since then, has lived and wandered around the U.S. and Canada. These days, she dips her gardener?s hands in California dirt, and reads and listens regularly at poetry venues in the San Francisco Bay Area. Diane has published three books of poetry and prose and won a prize or two along the way. She enjoys long walks beside the ocean, reading mysteries, and painting in watercolors. Learn more about her at https://www.pw.org/content/diane_moomey and www.dianeleemoomeyart.com.
Ginny C.:
This one made me smile.
Posted 05/17/2017 04:25 PM
joecot:
A perfect time capsule of memory. And your friend got you the bigger cherry Coke!
Posted 05/17/2017 12:42 PM
Jancan:
Ahhh, those were the days. This enjoyable poem has me taking a trip down memory lane! Janice
Posted 05/17/2017 12:19 PM
Michael:
Really like this as it brings back like memories.--Thank you, Diane
Posted 05/17/2017 12:06 PM
blueskies:
A shining walk down memory lane! Thanks,Diane.
Posted 05/17/2017 10:23 AM
pwax:
Sweet!
Posted 05/17/2017 10:04 AM
Sharon Waller Knutson:
What a wonderful nostalgic coming of age poem. The plastic stools, the 10 cent cherry coke all bring back pleasant memories. Thanks for this journey down memory lane.
Posted 05/17/2017 08:35 AM
KevinArnold:
Wonderfully understated, capturing innocence itself.
Posted 05/17/2017 08:21 AM
JanetruthMartin:
it makes me want to be 11!
Posted 05/17/2017 07:01 AM
Sarah Russell:
Oh such innocence! Such bliss! You captured it beautifully.
Posted 05/17/2017 02:58 AM