The delphinium growing in the garden
stands tall, its flowers mirroring
the limpid summer sky.

Around it, serenity has built
a sanctuary where bees
and butterflies seek refuge.

The flower stalk stands tall
above the leaves as if wanting
to see the world around it
or get closer to the sky
and blend colors

or simply to offer its beauty,
mysterious impulses guiding
it to put its flowers on display
for whoever happens to walk by.


© by Nydia Rojas.
Used with the author's permission.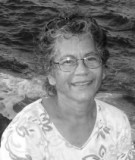 Nydia Rojas divides her time between writing poetry and working in her garden. "Somehow," she says, "each activity inspires the other, and each season I look forward to lots of beautiful blossoms and new topics on which to base my poems." Nydia is the author of one chapbook, Stealing Daylight, and lives in Middleton, Wisconsin.
jtmilford:
Beautifully written thanks.
Posted 05/18/2017 03:16 PM
blueskies:
Beautifully expressed. Thanks, Nydia
Posted 05/18/2017 01:08 PM
KevinArnold:
Fun poem. It sent me to seeking out pictures, and they're beautiful but can't include in text here. Just search 'delphinium' and look at 'images.' BTW is the plural delphinia? This, too, sent me seeking: pluralizations of Latin in English. Complex. Nydia cleverly stuck to the singular.
Posted 05/18/2017 09:21 AM