The finches are courting
outside our window, a warbled
discussion of real estate and love.
Like last year and the year before,
they want to lease the flower wreath
on our front door. It's always a dilemma:
discourage their rapture or detour
through the garage?

The finches always win. So
for a month we'll wake to overtures
at dawn – so cheerful, so loud –
show pictures of pin-feathered babies
to friends, recall demands
and pleasures of our own brood,
the bittersweet fledging.
© by Sarah Russell.
Used with the author's permission.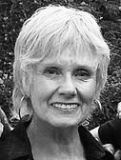 Sarah Russell lives in State College, Pennsylvania with a patient husband and a curly dog named Smudge. She co-edits Pastiche, a local literary magazine, and her poetry has appeared in dozens of journals and anthologies. Sarah humiliates her six grandchildren by knitting them sweaters for their birthdays. Learn more about her at https://sarahrussellpoetry.net/.
JanetruthMartin:
really enjoyed this, esp. the ending! is there any word more perfect than bittersweet to describe the empty nest?!
Posted 05/30/2017 04:49 PM
transitions:
Really enjoyed this poem; remember well my own fledglings.
Posted 05/30/2017 11:11 AM
Jancan:
This is very enjoyable! Janice
Posted 05/30/2017 09:21 AM
KevinArnold:
To end with such a perfect word, fledging, one I didn't know. Thank you, Sarah, thank you Jayne.
Posted 05/30/2017 09:11 AM
Sharon Waller Knutson:
Sarah, I absolutely love this poem. It is well written, delightful and sounds like you are describing my life.
Posted 05/30/2017 01:10 AM