for Rori Michele, my princess of every season
April wears the sun like silk,
a girl in swirls of yellow folds
that drape her days
in lingering light—
as she steals minutes from the night.

Like Cinderella dreaming dresses
cleaning her step-sisters' messes,
April too has work to do—
washing winter from the world
so dreams of daffodils come true.

Her sisters May and June deride
April for her moody swings,
impatient of meanderings—
they want summer! want it now!
want the sun to scrape and bow!

But April takes her time with things.
In fields muddy with melting snow,
steps uncertain, progress slow,
she pauses, clouds of skirt lifting—
and gives to all a peek of spring.

This poem first appeared in the 2017 Wisconsin Fellowship of Poets calendar.
Used here with the author's permission.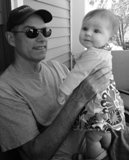 Mike Orlock is a retired high school English and American History teacher who splits time between the Chicago suburbs and a vacation home in Sturgeon Bay, Wisconsin. He has been married for 43 years to his high school sweetheart and inspiration, Liz, and greatly enjoys being grandfather to five beautiful granddaughters who keep him "jumping like a frog on a hot skillet." Mike's short stories, poems, and reviews have appeared in a variety of publications and he was a Jade Ring winner in a contest sponsored by the Wisconsin Writers Association.
Anjie:
Mike, this is lovely for an audience of all ages. I just love the rhyme and rhythm.
Posted 04/07/2018 05:56 PM
barbsteff:
No swirling yellow light so far in this quizotic April. Do April snow showers bring May flowers? Good poem.
Posted 04/06/2018 06:09 PM
Jo:
Mike, Sure enjoyed your poem. You described WI for sure.
Posted 04/06/2018 05:55 PM
cork:
This is exactly the April we are experiencing here in Pinedale, Wyoming. Mike's poem is right on time.
Posted 04/06/2018 09:44 AM
r1manchester:
always nice to hear from you Mike!
Posted 04/06/2018 09:13 AM