I'm clawing my way out of winter,
shoveling
and scraping, then a goose

 

to my Honda
to prime its transmission.

 

My daughter
won't ride in my car.
Should be condemned,
she says,

 

so to please her, I get rid of

 
empty water bottles, gas receipts, candy

 
wrappers, and junk mail. She reminds

 

me
a teak spice carousel

 

has taken up residence
in the back seat. I set her straight—
what you call litter is comfort to me.
In dog years,

 

my Honda is older than I am.
We've covered 152,000 miles on highways
rougher than washboards, swerved around
potholes, entrails, and garbage;
semis
on either side hovering to crush us.
We've tracked errant children and dogs.

 
T

he worst―black ice ready to spin us
into a tree, but my Honda comes

 

through.

It deserves a good detailing, but, in truth,

another trucks's backspray is up ahead.
© by Nancy Scott. 
Used with the author's permission.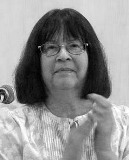 Nancy Scott is the author of ten books of poetry and has been managing editor of U.S.1 Worksheets, the journal of the U.S.1 Poets' Cooperative in New Jersey, for the past fifteen years. Her most recent book is, Marriage by Fire (Big Table Publishing, 2018). Nancy grew up in the Chicago area but has lived near Princeton, New Jersey since 1966. is also an artist and drops off and collects her collages from various exhibits in much the same way that she chauffeured her four children when they were younger. Learn more about Nancy at www.nancyscott.net.
mjs.ontheroad@gmail.com:
This poem is a gem! I love and relate to it so much; thanks, to you both!
Posted 04/09/2018 06:47 PM
Jo:
Love this poem. Enjoyed it especially this Monday morning. What a gift you have.
Posted 04/09/2018 01:53 PM
tonyroe:
Tony Raiola: My wife's sedate, silver-blue Subaru is pristine--inside and outside. My tomato-red Mini Cooper has never seen a Car Wash; its patina of dirt and grime announces to all that it's Tony's Mini. Gum wrappers, candy wrappers, peanut butter stains, chocolate stains, old magazines and much more share its interior with me. I'm comfortable with my "roomies." In seven years I've never cleaned the exterior -- Nature does that for me -- though, sad to confess, I've yielded to spousal pressure a few times and actually ejected roomies who've overstayed their welcome (my wife's view). Nancy has written a poem that's a graceful tribute to my relationship with my car. My relationship with my wife of fifty years has so far survived my car slovenliness (I call it carefree-ness), though I detect a bit of jealousy in my wife's persistent desire to intrude on my Mini's and my relationship. Thank you Nancy!
Posted 04/09/2018 01:03 PM
DavidTookey:
Trucks "hovering to crush us". Perfect!!!
Posted 04/09/2018 10:53 AM
Charly:
My Honda CR-V is 105 in dog years.....still a puppy to me. Love this poem!
Posted 04/09/2018 09:04 AM
mjorlock:
A fun read for an April morning! I like the way Nancy brings her Honda into the forefront of her relationships with family and the rest of the world--and it's true: we do form an attachment to our cars that is as enduring, in some ways, as our attachments to people and pets.
Posted 04/09/2018 08:40 AM
michael escoubas:
Nancy: I can relate so easily!! Thank you!!
Posted 04/09/2018 08:16 AM