I know dead when I see it.
Bile-colored leaves,
decomposing stalks.
I know about dredging
these small corpses
from the earth,
the heft of gathering remorse
in gloved hands.
A noticeable weight, yes,
but not so heavy considering
this loss was born
from these same neglectful hands. 
And yes, it was neglect,
those luxuriant black-sky days
when downpour seemed so certain,
those lolling humid days
when reading or sleep
were more important chores.
I know perennials,
they come back.
Like old boyfriends or lies.
Unwilling to be contained, popping
up when you least expect them.
Growing is what they do, even here
in this godforsaken place
I call a garden, a yard, a home. 
Yes, I know dead when I see it.
This poem first appeared in the Comstock Review.
Used here with the author's permission.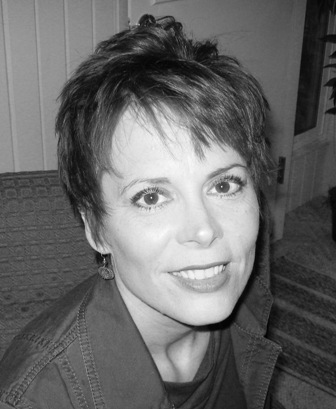 Cathryn Cofell is a fierce advocate for poetry, helping to launch the Wisconsin Poet Laureate Commission and its endowment fund, Verse Wisconsin, the Wisconsin Fellowship of Poetry Chapbook Prize, and the Poetry Unlocked reading series in Appleton, WI. She is the author of a full-length collection called Sister Satellite, six chapbooks, and a music/poetry CD. Learn more about her at  www.cathryncofell.com.
Antoinette:
If ever a first line could pull you in, this one did. Great poem.
Posted 07/04/2018 07:50 AM
Jo:
"I know dead when I see it. Great line, and wonderful poem.
Posted 06/18/2018 06:01 PM
transitions:
I know a good poem when I see it...this is one...
Posted 06/18/2018 01:53 PM
Lori Levy:
Love the lines about "those lolling humid days/when reading or sleep/were more important chores" and how the perennials come back like "old boyfriends or lies."
Posted 06/18/2018 01:35 PM
barbsteff:
Spot on imagery Cathy, and a quality many of us share! Congrats.
Posted 06/18/2018 12:44 PM
wendy morton:
Oh, those perennials.
Posted 06/18/2018 12:13 PM
Wilda Morris:
I, too, have been out watering flowers, but thus far, I neglected the rhubarb - it also needs water. You have inspired me to finally get out the hose in the back of the house.
Posted 06/18/2018 11:05 AM
Janet Leahy:
Just came in from watering my garden, and read your delightful garden poem. Thanks Cathryn for all you do for poetry in Wisconsin and beyond.
Posted 06/18/2018 10:47 AM
Stephen Anderson:
Bingo, Cathryn !
Posted 06/18/2018 09:57 AM
Charly:
How well I recall your great poetry classes....such a great poem for all us less than avid growers. Thanks, CC!
Posted 06/18/2018 08:24 AM
Jean Colonomos-1:
Jean Colonomos: No plant is safe in my hands either.
Posted 06/18/2018 08:04 AM
paradea:
Denial comes into play, even though "I know dead when I see it"! This is a wonderful poem!!!
Posted 06/18/2018 08:02 AM
michael escoubas:
Vivid poem, Cathryn--you have a way of putting the reader "there." Thank you.
Posted 06/18/2018 08:00 AM
rhonasheridan:
Been there! Remorse, guilt - but never thought of putting it into a poem, happy birthday Cathryn - I hope your plants reward you with a lovely flowering year. You deserve it - a delightful poem.
Posted 06/18/2018 05:43 AM
KarlaLinn:
"Like old boyfriends or lies." Perfect! Thank you, Cathryn, for taking me to you naive garden.
Posted 06/18/2018 05:41 AM