The sheds, the fishing shacks,
old warehouses lining the riverbank
turn a deep blue, indigo, nearly black
late in the afternoon, but they are still there—
informed by water, washed with the colors
of evening.
 
And you.
So quiet these days, nearly
disappearing into silence. But your eyes—
If you were a river, I would travel you
paddling my own canoe.
I'd pass through every shade of loneliness
until I found the deeper you,
the true self
that waits far back in the reeds.
 
I remember a white egret
stepping fitfully through shadows
until it startled
or came to a decision
and leaped
into full-bodied flight, ethereal
white kite sailing into its own future.

© by Ginny Lowe Connors.
Used here with the author's permission.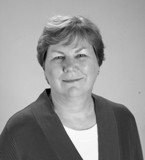 Ginny Lowe Connors is an editor, a publisher (Grayson Books), and a retired English teacher. The former Poet Laureate of West Hartford, Connecticut, where she lives, Ginny is the author of several award-winning poetry collections, the latest of which is Toward the Hanging Tree: Poems of Salem Village. She has also edited multiple anthologies; the most recent being Forgotten Women: A Tribute in Poetry. Says Ginny, "I have loved poetry since childhood. It sustains me. It crosses borders. The best poems find language to express complicated emotions and experiences in a way that gets at the core emotional truth. And the music of poetry reaches us beyond the level of language." Learn more about her at www.ginnyloweconnors.com.
Antoinette:
Insightful. Beautiful. I can feel the longing in this poem.
Posted 07/04/2018 07:47 AM
vortex:
WOW!!! This is like a beautiful painting.
Posted 06/20/2018 08:42 AM
Jo:
A gorgeous poem, very moving. I was just writing " if you were a river" when I looked down and saw Sharon had already shared my favorite line too.
Posted 06/19/2018 08:56 PM
Sharon Waller Knutson:
Moving, lovely emotional love poem. My favorite line is: "If you were a river, I would travel you paddling my own canoe."
Posted 06/19/2018 01:20 PM
Mary Lou Taylor:
The true self: you will find it.
Posted 06/19/2018 12:48 PM
Lori Levy:
Beautiful!
Posted 06/19/2018 12:20 PM
DavidTookey:
Powerful!
Posted 06/19/2018 10:45 AM
Jean Colonomos-1:
Jean Colonomos Thank you for taking me down your rivers.
Posted 06/19/2018 10:33 AM
Nabby Dog:
This is a deeply moving and beautiful poem. I believe the second stanza especially belongs in the Poetry Hall of Fame. What a gift to begin this day!
Posted 06/19/2018 08:57 AM
Larry Schug:
The first stanza is a photograph, the last, a painting, the middle verse is a novel.
Posted 06/19/2018 08:46 AM
paradea:
Poignant and beautiful
Posted 06/19/2018 08:39 AM
Gilbert Allen:
A lovely lyric poem.
Posted 06/19/2018 08:32 AM
StefStaley:
Breathtaking - thank you.
Posted 06/19/2018 08:24 AM
plgoodman:
Ginny I simply adore this poem. I too write about herons and egrets. Somehow they seem to embody the emotions of the universe. Well done!
Posted 06/19/2018 08:14 AM
rhonasheridan:
Absolutely beautiful
Posted 06/19/2018 07:17 AM