In the morning I go out
to fill the feeder for my
aunt, the air so still and
cold it almost crackles,
and we sit in porch chairs,
yellow blankets pulled up
to our chins, gazing at
the river trees shawled in
mist. She reminisces of
the friends she used to have,
the times she had growing up
with them, each one mapped
deep in her memory. I'd known
them once before, listening,
settling back and finding the
places in her voice: Warner's
Hot Springs, the Fall Brook
tennis club, the air heavy with
the incense of cedars. Savoring
the tales she has to tell me,
she resurrects them in all their
detail, shares moments of their
lives with me over raspberry
scones and tea. I knew Charlotte,
I knew Louise; their faces, their
kindnesses coming back to me,
the sound of my aunt's words
quietly flowing by me. Some
springs of remembrance, like
the ones in her heart, never go
dry, they only get riper like
the sun flowering in the sky.

© by Bobbi Sinha-Morey.
Used here with the author's permission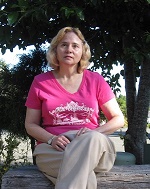 Bobbi Sinha-Morey lives in the peaceful city of Brookings, Oregon, where she enjoys aerobics, knitting, reading, and rock hounding with her husband. Bobbi loves listening to '60s music, has an impressive Marilyn Monroe collection, and is a big fan of "Charlie's Angels" and the classic series, "The Avengers." She is the author of several collections of poetry.
Antoinette:
So sweet and touching.
Posted 07/04/2018 07:42 AM
Lori Levy:
Beautiful tribute to your aunt.
Posted 06/20/2018 07:16 PM
Jo:
Enjoyed reading your poem. Springs of remembrance...
Posted 06/20/2018 11:25 AM
Jean Colonomos-1:
Jean Colonomos An inspiring poem so full of grace. I love where you take the poem.
Posted 06/20/2018 10:52 AM
paradea:
BTW.Love this poem!!!
Posted 06/20/2018 09:38 AM
paradea:
I had an aunt whom?? her children said was "stuck on happy"! What a treasure she was in the Brushy Mtns of NC. She lived to be 92, laughing all the time...never complaining. I miss her.
Posted 06/20/2018 09:37 AM
Sharon Waller Knutson:
I loved this poem. I have fond memories of my aunts, now all gone. My favorite line is "Some springs of remembrance, like the ones in her heart, never go dry, they only get riper like the sun flowering in the sky."
Posted 06/20/2018 08:50 AM
vortex:
Beautiful
Posted 06/20/2018 08:40 AM
michael escoubas:
Love your visuals and palpable smells, Bobbi, but most of all, the love!
Posted 06/20/2018 07:56 AM