When summer time has come, and all
The world is in the magic thrall
Of perfumed airs that lull each sense
To fits of drowsy indolence;
When skies are deepest blue above,
And flow'rs aflush,—then most I love
To start, while early dews are damp,
And wend my way in woodland tramp
Where forests rustle, tree on tree,
And sing their silent songs to me;
Where pathways meet and path ways part,—
To walk with Nature heart by heart,
Till wearied out at last I lie
Where some sweet stream steals singing by
A mossy bank; where violets vie
In color with the summer sky,—
Or take my rod and line and hook,
And wander to some darkling brook,
Where all day long the willows dream,
And idly droop to kiss the stream,
And there to loll from morn till night—
Unheeding nibble, run, or bite—
Just for the joy of being there
And drinking in the summer air,
The summer sounds, and summer sights,
That set a restless mind to rights
When grief and pain and raging doubt
Of men and creeds have worn it out;
The birds' song and the water's drone,
The humming bees' low monotone,
The murmur of the passing breeze,
And all the sounds akin to these,
That make a man in summer time
Feel only fit for rest and rhyme.
Joy springs all radiant in my breast;
Though pauper poor, than king more blest,
The tide beats in my soul so strong
That happiness breaks forth in song,
And rings aloud the welkin blue
With all the songs I ever knew.
O time of rapture! time of song!
How swiftly glide thy days along
Adown the current of the years,
Above the rocks of grief and tears!
'Tis wealth enough of joy for me
In summer time to simply be.

This poem is in the public domain.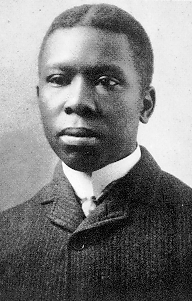 Paul Laurence Dunbar (1872-1906) was from Ohio. He wrote his first poem at the age of six, was editor of his high school newspaper, and published his first book at twenty. His writing attracted attention from the very beginning, and Paul became well-known in both America and around the world. Like James Whitcomb Riley, who was a fan of his young contemporary's work, Paul wrote many of his poems in dialect. Besides a dozen books of poetry, Paul wrote four short story collections, five novels, a play, and the first Broadway musical ever written and performed by African-Americans. A tremendously successful poet whose work was being published in all the major literary publications of his day, Paul's life was cut tragically short by tuberculosis.
Jancan:
If words can logically be compared to a place, this poem is Heaven. I absolutely love it. Dunbar is one of the best poets who ever lived--or will yet live. Jancan
Posted 06/21/2018 12:21 PM
CamilleBalla:
Thank you for introducing me to Paul Laurence Dunbar's poetry. He shows amazing talent and a spirit open to beauty being with summer, his soul inspired to sing, lifting him from grief to joy. Wow!
Posted 06/21/2018 11:27 AM
paradea:
Fantastic!!
Posted 06/21/2018 11:07 AM
cork:
A great poem to celebrate the arrival of summer.
Posted 06/21/2018 09:47 AM
michael escoubas:
Love Mr. Dunbar's flawless iambic pentameter and rhyme. Most of all, his heart of love, living, as he did, in a time where African Americans enjoyed few of our nation's many advantages.
Posted 06/21/2018 08:09 AM
Jean :D:
Absolutely outstanding! No wonder that he was so successful. His descriptive words for ordinary sights & sounds is delightful.
Posted 06/21/2018 07:47 AM