The words she spoke
blossomed in the room.
Their sun painted the walls.
Corn grew in the northwest corner,
had ears, exhaled into October.
A tiny biplane flew low and ~ look,
thereís a tiny Cary Grant, running
for his life! How will we feed him,
now the cornís gone?

Can he live on stories, too?

© by Carol L. Deering.
Used with the author's permission.
†
†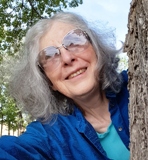 Carol L. Deering grew up in New England, but has also lived in Arizona, Michigan, Germany, and Washington State. For the past 30+ years, she has lived just outside a small town in the least-populated state in the U.S. Says Carol, "We had a railroad, now a bike trail. We have an airline, but no bus line. From our windows we connect with deer, pheasants, a great blue heron, raccoons, cottontails, foxes, coyotes, a porcupine, Sandhill cranes, chukars, owls, geese, horses, and an occasional neighbor's dog. Learn more about her at www.caroldeering.com.
Jo:
A delight.
Posted 07/11/2018 01:11 PM
Lori Levy:
Yes, this is what words do. Great!
Posted 07/11/2018 01:01 PM
wendy morton:
Let our words bloom.
Posted 07/11/2018 11:36 AM
wordartdjc:
Such a lovely poem. All of my children learned to love the library and now their children and grandchildren follow the pattern. I will read it to my Lucky Listener first graders when I return to tutor in the fall.
Posted 07/11/2018 10:48 AM
cork:
In just a few words, the corn with ears came and departed. That's what words do.
Posted 07/11/2018 09:15 AM
Larry Schug:
An entire story appeared in my mind as I read this--a picture book I can read over and over.
Posted 07/11/2018 08:27 AM
michael escoubas:
Enjoyed this "word-fest" Carol! Thank you.
Posted 07/11/2018 08:25 AM
rhonasheridan:
A delight. In the dark ages- Used to read to the younger ones in Edenburgh - with their Mums after school. The Mums loved stories too!
Posted 07/11/2018 06:03 AM