I don't know their names or gender
or whether they even have a gender.
I forget they're even there like I forget
a name, a fact, a necessary detail.
I only have to wonder aloud and then
move on to another thought when I feel
a little tap on my shoulder or sense
the presence of a calm being behind me
and there he is, or she, or it, handing me
a folder wrapped in a metaphor containing
the datum I couldn't bring to mind
that short time ago. Then I can go on living,
assured that my mind still works, that the guys
in there have not run off to serve a younger
or more facile mind, that they're with me still
in their khaki pants, buttoned-down shirts
and wire-rimmed glasses, poised to run
to the file box where they know just where
to find my username and password, the place
where we took that photo with the sea crashing
behind us, or the name of that actor, you know,
the guy who starred in that movie with that
actress, you know, the pretty one with the wide
smile and the shining teeth.

© by Tamara Madison.
Used with the author's permission.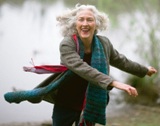 Tamara Madison is the author of the chapbook, The Belly Remembers, and two full-length volumes of poetry, Wild Domestic and Moraine, all published by Pearl Editions. She is a dog lover, a swimmer, and a native Californian who has lived in many different places in the U.S. and abroad. Tamara is thrilled to have recently retired from teaching English and French in a Los Angeles high school, and still more thrilled to have recently become a grandmother.
Lori Levy:
I like the humor in this poem, especially the ending.
Posted 07/12/2018 03:30 PM
Michael:
Wonderful way of getting "at" the ever-so-slow process of losing a little here, a little there, but thank the Lord that most of what we are remains in places where those guys can run and get it!
Posted 07/12/2018 02:31 PM
Jean Colonomos-1:
Jean I'm right there with you. Thank you for honoring this state of being.
Posted 07/12/2018 11:16 AM
wordartdjc:
So true, so true and makes all believe that we are really not 'losing' it.
Posted 07/12/2018 10:43 AM
cork:
I had a datum but lost it but know the workers will come up with it. Thanks.
Posted 07/12/2018 08:59 AM
Jancan:
I REALLY love this poem. The theme is cleverly, clearly conveyed--and with light humor. Janice
Posted 07/12/2018 08:44 AM
laurenepersons:
Oh how true. Funny when the bespectacled little guy does retrieve that memory from the Rolodex, it seems hardly worth saving! It is all about the retrieval process,though. I love when a short writing by someone I have never met can make me smile and nod my head. The power of words and good writing. Thanks, Tamara.
Posted 07/12/2018 07:39 AM