Another morning. I watch dark unfold
into gray silk lightening to bright above Stone
Mountain where lives the tax collector
out of sight and mind.

I walk to the well-house, turn on untainted
water from underground, a blessing
not quite taken for granted, in a garden
where ground-squirrels spare a few zucchini

and all my tomatoes have split from stem
to ripening into that full red summer taste I have
no word for. They're ugly to a grocer's eye.
Oh, the smell of stout green vines!

Another morning on two good legs to climb
back up to the house, its scrim of dust
and lacy cobwebs, homey spiders, kitchen
where coffee's perked for my favorite mug.

Soon the TV news will ratchet up tragedies
and I'll wonder at the unfairness of this
blooming world – how it works or doesn't.
But I can't argue with the tomatoes.

© by Taylor Graham.
Used with the author's permission.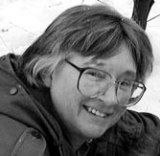 Taylor Graham lives in the Sierra Nevada foothills, where she is a volunteer search-and-rescue dog handler. Her award-winning poems have appeared in hundreds of newspapers, journals, and anthologies. Appointed as El Dorado County's first poet laureate, Taylor is enjoying learning more about the history—both human and natural—of that area. She's also conducting monthly readings and read-arounds, as well as a weekly poetry workshop. Learn more about her at www.somersetsunset.net.
patriciannb13@gmail.com:
love this poem
Posted 07/19/2018 04:17 PM
barbsteff:
Oly a fool would argue with a tomato. Like the line, "scrim of dust."
Posted 07/19/2018 02:06 PM
Lori Levy:
Love the images in this poem.
Posted 07/19/2018 01:40 PM
wendy morton:
The unfairness of the blooming world. Yes.
Posted 07/19/2018 12:29 PM
wordartdjc:
This takes one 'out' of herself and 'plants' them in another world
Posted 07/19/2018 10:33 AM
cork:
To balance the tragedies with natural beauty is an art you have achieved. Thanks.
Posted 07/19/2018 09:10 AM
rhonasheridan:
Sorry! I 'have' - not 'love' I am swept away with admiration! I'm
Posted 07/19/2018 08:42 AM
rhonasheridan:
I love admiration for both tomatoes and this poem.
Posted 07/19/2018 08:39 AM
Gilbert Allen:
As I watched "dark unfold / into gray silk" in upstate South Carolina this morning, I enjoyed the evocative, distinctive imagery of this poem.
Posted 07/19/2018 06:56 AM
JanetruthMartin:
Simply wonderful! thank-you for sharing this!
Posted 07/19/2018 06:56 AM
Larry Schug:
Taylor Graham--you get it! Life is as tangled and connected as a tomato vine and its fruit is indescribable. A fine poem in so many ways.
Posted 07/19/2018 06:50 AM