And you say toe-may-toe
and I say toe-mah-toe,
and he says ketchup
and she says not so much,
and we say thin slices,
and they say alrighty.
To-may-toe, toe-mah-toe
in salads with spices,
in sauces with pasta.
Letís all go to market
today not tomorrow,
to-may-toe, toe-mah-toe,
right now.
†
© by Marjorie Maddox.
Used with the author's permission.
†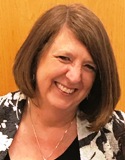 Marjorie Maddox is Professor of English and Creative Writing at Lock Haven University. At the age of 8, Marjorie published her first poem in Campfire Girls Magazine. Eleven books and six chapbooks later, she still loves writing poetry, fiction, creative nonfiction, and children's literature. Her most recent collections include True, False, None of the Above (Poiema Poetry Series and Illumination Book Medalist), Local News from Someplace Else (Wipf & Stock), Wives' Tales (Seven Kitchens Press), and her first short story collection, What She Was Saying (Fomite Press). Forthcoming is a re-release of her poetry collection Transplant, Transport, Transubstantiation (Wipf & Stock) about her father's heart transplant. Learn more about Marjorie at www.marjoriemaddox.com.
wordartdjc:
Yes, made my mouth water for a huge juicy one. The simple things in life are sometimes the greatest.
Posted 07/18/2018 09:36 AM
mmaddoxh:
Nice to wake up to these two comments. Thank you!
Posted 07/18/2018 08:31 AM
Larry Schug:
A fun poem to read aloud. I like the conversation in the first sentence.
Posted 07/18/2018 08:18 AM
Michael:
Nicely done, Marjorie! I grow tomatoes and love ketchup, but nothing I do or say can matchup with your delightful poem!
Posted 07/18/2018 07:44 AM