"Don't you ever," I say, collecting
my 13-year-old from her Othello rehearsal, when
two hours late she doesn't turn
up, "do that again.
Do you have any idea how a parent worries
when a child doesn't come home?" She's all apologies
and steady, clear-eyed replies
to my fighting-back-tears, heart-in-mouth cries
and shaking voice, swearing, to calm down
me, that in the future she will always phone
to say where she's gone and when I can expect her back.
It's all I can ask,
so I try to believe in the promise of a daughter
I can still picture in the heart-covered dress I stitched for her

at three. She wore it every day that I allowed,
and sometimes more, during the February she sat glued
to her desk with scissors, construction paper, glitter, markers, tape
and explained, arms spread wide, her plan to decorate the house, top
to bottom, for her favorite holiday, "I'm going to cover this whole
place with Valentines. It's going to be so beautiful."
So when the lady at the chocolate
counter offers me a seasonally-shaped
balloon, I hold out my hand without
a thought about whom I might
give it to—just smiling
like every other fool in love—attaching
the ribbon to my wrist as I leave,
wearing, so it can't get away from me, my heart on my sleeve.
From Obstructed View (Fireweed Press, 2009).
Used with the author's permission.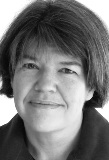 Wendy Vardaman is the author of Obstructed View (Fireweed Press), co-editor of four anthologies, and founding co-editor of Cowfeather Press. She is one of Madison, Wisconsin's two Poets Laureate (2012-2015) and teaches online through the Loft Literary Center and the Division of Continuing Studies UW-Madison. Wendy has three adult children and has never owned a car.  See what she's up to at www.wendyvardaman.com, Twitter: @wendylvardaman, and Tumblr blog: live art(s) art live(s).
transitions:
Beautifully done ~ memorable even for us who were not blessed with daughters ~
Posted 02/12/2015 04:12 PM
Checker:
I've been thinking for a few minutes about what is exactly that I like so much about this poem. And when I read the previous comments, Janet Leahy and Jo gave me the answer: it's the way it travels. But I'm sure there's more there that makes me enjoy this poem so much. It's poetry about the everyday - but to make the everyday poetic, it has to be beautifully put, as rhonasheridan said.
Posted 02/12/2015 01:42 PM
Jo:
Wendy, your poem brings it all back, the heart in your mouth fear that something has gone terribly wrong-- You've given us a beautiful poem, and the way it goes from that initial fear/anger to the love you put into making her Valentine's Day dress, to the heart-shaped balloon...wondrous is all there's left to say.
Posted 02/12/2015 01:06 PM
Cindy:
so true; lovely
Posted 02/12/2015 08:47 AM
TheSilverOne:
Those wonderful memories of when we were our daughters' world! The dress I made was covered with rosebuds.
Posted 02/12/2015 08:23 AM
Janet Leahy:
Love the way this poem travels, from the child to the chocolates and the valentine balloon, a wonderful journey, thanks Wendy.
Posted 02/12/2015 08:22 AM
mimi:
the years go by so fast, thank goodness for these wonderful memories that remain..sweet poem.
Posted 02/12/2015 07:35 AM
rksanders@charter.net:
This brings a smile and a twinge of the heart. Thanks, Wendy.
Posted 02/12/2015 07:27 AM
paula:
Oh, how we love our daughters--wonderful poem!
Posted 02/12/2015 07:21 AM
vscholtz:
Beautiful - our children get away from us too fast.
Posted 02/12/2015 06:57 AM
JanetruthMartin:
there isn't a mother out there who can keep her heart in her chest as she reads this! superb!
Posted 02/12/2015 05:48 AM
rhonasheridan:
I have uttered those very same words. A moment I shall never forget. This was beautifully put. Thank you.
Posted 02/10/2015 05:49 AM