Surely they speak together
old meeting young,
near neighbors standing by,
trunks firm though they sway
in the wind.

They have gathered for hundreds
of years in close quarters, share
quiet signals of leaves, roots, fog,
they watch and gossip, collecting
the snow, duff, running

creek, ants, warblers.
Surely they talk softly
warning of fire or drought
support each other when
one falls to disease or age.

They grow together
branches touching
squirrels jumping—
the deer listen for secrets
murmured, we think

it's the wind talking.


© by Emily Strauss.
Used with the author's permission.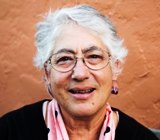 Emily Strauss has an M.A. in English, but is self-taught in poetry, which she has written since college. More than 450 of her poems appear in a wide variety of online venues and in anthologies, in the U.S. and abroad. The natural world of the American West is Emily's usual framework; she also considers the narratives of people and places around her. Emily is a retired teacher and lives in Oregon.
antoinette:
As someone has already commented, this is so gentle yet still it pulls us in. Lovely.
Posted 08/13/2018 01:37 PM
MLove:
LOVE this poem! I'll never look at our trees the same - are they whispering about that old woman who would rather just sit on the deck than do anything constructive - like maybe tackle the vines that are choking us? It's definitely a keeper!
Posted 07/30/2018 10:44 PM
Michael:
Very clever twist, Emily. Enjoyed this very special poem.
Posted 07/29/2018 09:32 PM
Dorothy WildhagenD:
absolutely lovely
Posted 07/29/2018 02:47 PM
Lori Levy:
Love the idea of the trees standing together, talking softly, whispering secrets.
Posted 07/29/2018 01:15 PM
wordartdjc:
So gentle and beautiful.
Posted 07/29/2018 12:44 PM
cork:
The aspens have so many babies!
Posted 07/29/2018 10:00 AM
vortex:
I love, love, love this poem! A glimpse into the secret but true life of nature. Thanks
Posted 07/29/2018 09:22 AM
Larry Schug:
You have captured a poem I've been trying to write for years and haven't quite gotten there yet. The first line and the ending encapsulate the rest of the poem perfectly.
Posted 07/29/2018 08:44 AM
paula:
A gentle poem. I love trees too.
Posted 07/29/2018 06:47 AM