You, whisper on wings, you,
grey spirit of sky, you grace
ponds, creeks, marshes

like a statue, then stab
with the speed of Zeus.
You, Nature's sword swallower,

her dancer-with-eagles,
her modern pterodactyl, how
can you be fishes'

worst enemy and photographers'
fondest dream? How
can you snake that neck

into your body, then stretch it
like a bungee cord? How
can you swallow

a bullfrog whole, then
pose among cattails, cape
of ivory feathers

flowing like a Pharaoh's?
Next time you fly, will you
touch heaven for me, you

symphony in silver, you,
prayer-in-the-air?

From the forthcoming collection, Walking with Scissors (Kelsay Books, 2019).
This poem first appeared in The Broadkill Review.
Used here with the author's permission.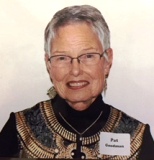 Patricia L. Goodman is a widowed mother, grandmother, and great grandmother. She is a retired horse breeder and teacher and now enjoys singing, gardening, writing, spending time with her family, and she has recently become involved with musical theater. Patricia's first book, Closer to the Ground, was published by Main Street Rag. Her second book, Walking with Scissors, is due out next year from Kelsay Books. Patricia lives in Delaware.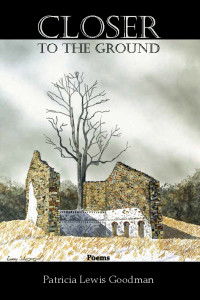 barbsteff:
Lovely imagery and use of comparisons. Captures much about herons. I used to watch them from a cottage in northern Minnesota.
Posted 07/29/2018 04:13 PM
rhonasheridan:
I have a great love of herons. And loved your poem. Thank you very,, very much Patricia.
Posted 07/29/2018 08:44 AM
Lori Levy:
Love "symphony in silver" and "prayer-in-the-air."
Posted 07/28/2018 07:16 PM
Jancan:
Beautifully descriptive--love the use of figurative language! Janice
Posted 07/28/2018 04:46 PM
transitions:
Loved it!
Posted 07/28/2018 04:41 PM
Jo:
One of my favorite Pat. I especially like the the last two lines, but there are so many wonderful images.
Posted 07/28/2018 04:21 PM
Dorothy WildhagenD:
Thank you lovely description.
Posted 07/28/2018 03:11 PM
pwax:
Beautiful poem! Well done!
Posted 07/28/2018 12:21 PM
wendy morton:
Whisper on wings. Lovely.
Posted 07/28/2018 11:24 AM
Michael:
WOW! Symphony of silver! And what a sweet symphony of language. Thank you!
Posted 07/28/2018 11:04 AM
cork:
I will never look at a heron in the same way again.
Posted 07/28/2018 10:03 AM
wordartdjc:
Dear Patricia. As one who lived on Hatteras Island for some 28 years, I do know the Heron and the Egret. They were visitors on our dock for all that time. How lovely you have described them here. Thank you.
Posted 07/28/2018 09:47 AM
gailcomorat:
What beautiful images and language, Pat! You captured the heron with your words.
Posted 07/28/2018 08:26 AM