The crow that owns the path
to my gardens
keeps track of my usage
from the big pine.
Thinks I owe him a toll.
 
He flies above me
squawking his protest,
settling down in another pine
where he watches me
pick raspberries.
I remind him that he ate
my first bean planting
before they sprouted.
He admits it's so, but argues
that he let the next
one thrive,
points out I ended up with more
beans than I could use.
Claims he keeps the other birds
away from my berries,
preferring peanuts himself.
 
I agree with him,
appreciate his concern.
It is worth a bag of peanuts
to have a watchman on duty
all summer long.

© by Peggy Trojan.
Used with the author's permission.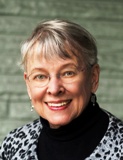 Peggy Trojan retired from teaching English to the north woods of Wisconsin. She and her husband, David, with the help of family, built a house next to a trout stream, where Peggy writes and tends her raspberry patch so she can make jam. A member of the Wisconsin Fellowship of Poets, Peggy is the author of three chapbooks and a full collection.
antoinette:
I can't help but love this.
Posted 08/13/2018 01:30 PM
Dorothy WildhagenD:
I prefer peanuts to beans, too.
Posted 08/05/2018 08:58 AM
wordartdjc:
Funny and yet insightful...I wish I had a crow!
Posted 08/04/2018 10:30 AM
Lori Levy:
Love the relationship between the crow and the narrator.
Posted 08/03/2018 07:49 PM
barbsteff:
Love the first line: The crow that owns the path! How true.
Posted 08/03/2018 01:58 PM
Sharon Waller Knutson:
Peggy, I loved the way you humanized the crow with the conversation and the metaphors of toll and watchman. The poem is very relatable. We have two crow watchmen on our property.
Posted 08/03/2018 11:47 AM
KevinArnold:
Wonderful dreamlike quality. In both worlds.
Posted 08/03/2018 09:46 AM
Janet Leahy:
Your conversation with the crow is delightful, and a watchman for the berry patch is worth the toll he exacts. Thanks Peggy.
Posted 08/03/2018 09:31 AM
njc:
"The crow that owns the paths"--love it! You can't win an argument with a crow.
Posted 08/03/2018 08:48 AM
Larry Schug:
Well said! May we all have such an intimate relationship with the world around us.
Posted 08/03/2018 08:18 AM