The record-breaking temperatures melted deep layers of permafrost. And reindeer carcasses — infected with the deadly bacteria — rose to the surface of the thawing mud.
                                                                                                                                                                                                              —Michaeleen Doucleff, NPR News

Does no one remember
The Blob,
that gelatinous mass
blessed with locomotion
well on its way
to consuming
the population
of Pennsylvania
until Steve McQueen and his band
of Brylcreemed clichés
saved civilization?
How soon we forget
how the feds dropped it,
freeze dried to submission,
into the Arctic ice
to, in theory, sleep it off
for eternity.
But now, in spite of the alarms of
punctured ozone, melting ice caps,
and climate change,
we have forgotten
there's a giant glob
of homicidal Jello
slowly awakening from
its 60 year slumber.
So I scan society
looking for a modern misunderstood subset
that can suck up the savvy
to save us
Because Steve McQueen
with his icy blue cool is long gone,
and there's no one left in Hollywood
that's hip enough
to rescue us
again.


This poem first appeared in Edison Literary Review.
Used here with the author's permission.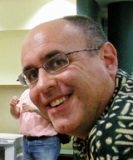 Tony Gruenewald lives in New Jersey, where his resumé includes running a recording studio, working in a public radio station archives, writing and producing radio newscasts, and stints in advertising, marketing, and public relations. His collection, The Secret History of New Jersey, was published by Northwind in 2009, and his poems have been seen in numerous journals and publications. Learn more about him at tonygruenewald.com.
Richard Greene:
Tony, Glad to see you're still going strong. I knew you from readings you did in the Princeton area when I lived there over a decade ago. Keep up the good work.
Posted 08/06/2018 10:46 PM
Mary Lou Taylor:
This poem would fit right in to a Hollywood anthology of poems about Tinseltown. Great.
Posted 08/05/2018 05:27 PM
Lori Levy:
I like the way this poem uses humor while dealing with the serious subject of climate change.
Posted 08/05/2018 01:32 PM
KevinArnold:
Fun. Thanks, Tony.
Posted 08/05/2018 09:46 AM
cork:
We have a new climate.
Posted 08/05/2018 09:30 AM
plgoodman:
Wonderful Tony! I needed the lighthearted laugh you provided this morning. Great, imaginative poem. Thanks!
Posted 08/05/2018 08:39 AM
Larry Schug:
Awesome poem! I worry about all the "blobs" the human race has thought buried that will come back to cause mayhem.
Posted 08/05/2018 07:50 AM