All eyes—on the blind man
as hesitantly he stepped
into the elevator and faced
front, pivoting on his cane,
leaning so far forward
the electric eye that watched him
kept the door open.

Not a word was spoken.
All eyes—turned downward.
Embarrassment hummed
but never spoke within the taut group,
then became whispered impatience
that became silent buzzing and whirl
inside that cube of human cargo.

How do you explain to a blind man
the eye of a hurricane?

Open like that, the door allowed
one more human to slip in.
The blind man must have sensed
the new presence, the smell
of finished talcum, because he stepped back
to give her space before they all heard
an end-of-day voice project
in his direction: Thanks for holding it.


From The Eyes Have It (Turning Point, 2018).
Used with the author's permission.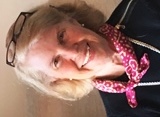 Anne Harding Woodworth is the author of six books of poetry and four chapbooks. She sings in The City Choir of Washington which, this summer, is touring England to perform the Fauré Requiem. Anne looks forward to checking out the vibrant English poetry scene while she's there. A co-chair of the Poetry Board at the Folger Shakespeare Library, Anne lives in Washington, D.C. when she is not at her cabin in Western North Carolina. Learn more about her at www.annehardingwoodworth.com.
antoinette:
Insightful and sweet.
Posted 08/13/2018 01:27 PM
Lori Levy:
I agree with all the comments below!
Posted 08/08/2018 04:19 PM
MLove:
Beautiful! I love this!
Posted 08/08/2018 04:02 PM
Mary Lou Taylor:
Tender and moving. Just what you'd like a poem to be.
Posted 08/08/2018 03:26 PM
wordartdjc:
Such an insightful and moving piece. Thank you.
Posted 08/08/2018 01:03 PM
Glen Sorestad:
What a fine poem to begin my day! Thanks so much for this, Anne.
Posted 08/08/2018 11:13 AM
Sharon Waller Knutson:
I loved this powerful narrative poem full of insight and wisdom. With action and bold description, "Lift" tells the story that the blind use their heightened sense of smell and hearing to see what we can't see. The metaphor "cube of human cargo" is brilliant.
Posted 08/08/2018 11:08 AM
DavidTookey:
Anne, this is a wonderful poem. Thank you for sharing it. Moments like that are so hard to capture. You pulled it off in spades. :-)
Posted 08/08/2018 10:22 AM
michael escoubas:
Anne, such a poignant description of reality. Your poem reminds me of the way Ted Kooser writes.
Posted 08/08/2018 09:23 AM
Janet Leahy:
We're all in that elevator with you, and then the surprise ending, what a treat! Thanks Anne.
Posted 08/08/2018 09:23 AM
Jancan:
I really enjoyed this touching, descriptive poem. Jancan
Posted 08/08/2018 09:10 AM
cork:
What a vibrant conclusion!
Posted 08/08/2018 09:04 AM
Charly:
Really a very sad commentary on most of us, and simple sweetness on one who might not see with eyes but with heart. Thank you.
Posted 08/08/2018 08:03 AM