I believe in fog drifting silently
from the Pacific Ocean,
in reading until my eyes burn,
I believe in the eyes of dogs, in wild rabbits,
in Beethovenís violin concerto,
in Joshua trees that stretch their arms
against a desert dawn.
I believe in not believing
in myth, nor in wishful thinking,
nor in a supernatural figure
who stirs things from above.
I believe in the smell of fresh-cut ginger
sun-baked kelp, orange blossoms
in hot August moonlight
and in the grace of dinner
beautifully prepared.

From Flour, Water, Salt (Futurecycle Press, 2016).
Used here with the authorís permission.

†
†
†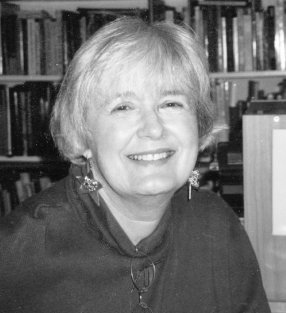 During her life, Ruth Bavetta has moved from geology/paleontology to painting to poetry. She writes at a messy desk overlooking the Pacific Ocean. Visual art informs many of her poems, as does the landscape of Southern California, where she has lived all her life. Ruth also writes of cooking, of her Italian immigrant family, the experience of growing old, the singularity of toothpicks, and the sorrow of Afghanistan. She†likes the light on November afternoons and the smell of the ocean; she hates pretense, fundamentalism, and sauerkraut. †Learn more about her at†www.ruthbavetta.com.
†
†
antoinette:
You make us believe!
Posted 08/13/2018 01:24 PM
michael escoubas:
love the many sensuous images in the poem. Thank you, Ruth.
Posted 08/12/2018 05:35 PM
Jo:
So many extraordinary images. the eyes of dogs in wild rabbits, orange blossoms in hot August moonlight. Beautifully written, Ruth.
Posted 08/12/2018 03:36 PM
Mary Lou Taylor:
Loved the poem, its images, and Ruth's website.
Posted 08/12/2018 03:10 PM
wordartdjc:
Thank you, Ruth. This poem makes me wish to write a poem too in which I can express my list of the beauty that I have experienced through for all of my many years.
Posted 08/12/2018 01:17 PM
Lori Levy:
Beautiful!
Posted 08/12/2018 01:03 PM
cork:
I smelled orange blossoms years ago in Granada, Spain. Thank you for the reminder.
Posted 08/12/2018 11:13 AM
Sharon Waller Knutson:
I love this picturesque and beautifully written poem. As a former Southern Californian and now an Arizonian, I can still see the images of fog drifting silently from the Pacific Ocean and Joshua trees that stretch their arms against a desert dawn.
Posted 08/12/2018 10:16 AM
Larry Schug:
Right on, Ruth! Echoes of my own philosophy so well said dwell in this poem. I wish I was your next door neighbor!
Posted 08/12/2018 08:44 AM
Janet Leahy:
So many beautiful things to believe in flow through this poem, and then a lovely ending. Thanks Ruth.
Posted 08/12/2018 08:11 AM