†
Hovering insectile love. Fretful love, every
two mile check-up love, nerve pill rope-end indecisive highly
diagnostic love. Bracing love. Speedy

love. Medieval leeching what ho troubadour head-
lopping dulcimer lost
ark love. Manifesto
love. Give up the throne
love. Love as truce. Tectonic plate
rearrangement love. Ultimatum bad

dog love. Ziploc
suffocation love. Bottom†
feeder plankton love. Trophy preener
improvement love. Pink pluming
hope burning diary teen
reversion love. Blurt
out love. Perpendicular
gridlock love, hall
monitor love, detention love. Bad
press love. Half-Nelson Gladiator
headlock uncle you say it blood-

spitting hard-breathing down
for count head
injury love. Log-rolling jolly
motion river gusto wet and
galvanized love. Sympathetic†

Red Cross love. Sinatra, Iglesias, Don Ho, Yo-
Yo, Dvorak, Monk Chant, Yanni love. Not entirely
believable love. Wild
love, burned at the stake love, iron
lung love, bone marrow pacemaker
toupee love. Love in remission,
amputee love, Federal Witness
Protection love, in hiding subtext
Morse Code spy love. Revisionist

love. Open book test
love. Boundless applause in the front
row love. African trumpeting large†
flap love. Stealth Bomber
love. Slow me down
love. Keyhole light
love. Pebbled
birdís egg love. Name it to
your face love, woke

up love, count on it
stouthearted no-leak no-fault
high octane 911 in the daylight unashamed
long haul fearful but right here intergalactic
Hovercraft love.
†
From Why The Ships Are She (Four Way, 2001)
Used with the authorís permission
†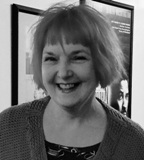 Minnesota poet Terri Ford is the author of two books and her work has appeared in numerous journals and publications. A graduate of the MFA Program for Writers at Warren Wilson College, she has been a fellow at Bread Loaf Writer's Conference, a summer resident of the Fine Arts Work Center in Provincetown through the Ohio Arts Council, and the recipient of several grants. Richard Silberg, in a review of Terri's first book in POETRY FLASH (No. 188), wrote, "Terri Ford....seems to me someone who's right down in it, like a healthy poetic dog, a setter, lovely bird dog, sniffing, dashing back and forth, finding everything out."
ghctenmile@earthlink.net:
here's to ya', love!
Posted 02/14/2015 02:18 PM
Larry Schug:
Blow me away, why don't ya! Best Valentine's Day poem ever!
Posted 02/14/2015 07:47 AM
phebe.davidson@gmail.com:
Bravissima!!!!!!!
Posted 02/14/2015 06:48 AM