Yesterday,
the sign in the airport
read
'Recombobulation Area'
after we'd been
assessed at the molecular level
for explosives, liquids,
lethal knitting needles,
and the possibility of
a hidden blunderbuss

So we sat down
and obediently re-established
our pocket wealth,
tied our shoes,
rearranged our molecules,
and strapped back on
any undetected emotional weapons
of self-protection
we'd manage to conceal
with our taciturn smiles
Copyright by Katrin Talbot.
Used with the author's permission.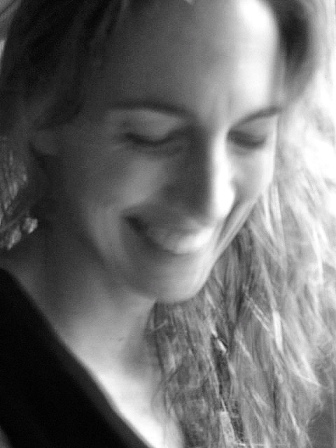 Australian-born Katrin Talbot is a violist, photographer, and poet, whose collection noun'd, verb was recently released from dancing girl press. Katrin's first collection of photos and poems, In Which Miss Mabelline Is Introduced to the Honorable Dr. Suzuki, was commissioned by the Suzuki Strings of Madison; she has two other chapbooks, including Freeze-Dried Love from Finishing Line Press, and St. Cecilia's Daze, published by Parallel Press. A photo essay of Schubert?s Winterreise was published as a coffee table book and cd by the University of Wisconsin Press. Meanwhile, a song cycle based on her poetry will be premiered in Toronto later this year. Katrin was Poet-in-Residence for Sound Ensemble Wisconsin last season, was a finalist in 2009 for four national poetry prizes—one of which awarded enough prize money to fund a dairy queen run—and she has two Pushcart prize nominations sewn into her bomber jacket.
transitions:
Missed this but now found! So clever, thanks for the smile:)
Posted 03/18/2015 01:17 PM
Checker:
Nice poem. And yes, taciturn smiles are perfect for concealing every kind of thing.
Posted 02/15/2015 10:01 AM
Barry:
Funny Poem. Thank you.
Posted 02/15/2015 08:38 AM
mimi:
love love this poem--and I too have smiled at that "recombobulation" area. o if only it were that easy.
Posted 02/15/2015 08:05 AM
nscott29@aol.com:
Yes, a delightful poem for early morning on a below zero day. Thanks Katrin for the smile.
Posted 02/15/2015 07:48 AM
paula:
Can't say Milwaukee doesn't have a sense of humor. Wonderful poem.
Posted 02/15/2015 06:22 AM
Ross Kightly:
Oh Yeah! Gotta go through the Recombobulation Process every morning, me! This is a ripper, Katrin! From a fellow Aussie expat (but in a different part of the discombobulating world)! Thanks for this cheerful viewpoint - got my taciturn smile holstered ready for later use!
Posted 02/15/2015 05:39 AM
rhonasheridan:
Oh- perfect! I started the day with a laugh!
Posted 02/15/2015 12:58 AM
KevinArnold:
Yes, a well-crafted poem with its turn at emotional.
Posted 02/14/2015 11:13 PM