(New Brunswick)

The long red flats stretch open to the sky,
Breathing their moisture on the August air.
The seaweeds cling with flesh-like fingers where
The rocks give shelter that the sands deny;
And wrapped in all her summer harmonies
St. Andrews sleeps beside her sleeping seas.

The far-off shores swim blue and indistinct,
Like half-lost memories of some old dream.
The listless waves that catch each sunny gleam
Are idling up the waterways land-linked,
And, yellowing along the harbour's breast,
The light is leaping shoreward from the west.

And naked-footed children, tripping down,
Light with young laughter, daily come at eve
To gather dulse and sea clams and then heave
Their loads, returning laden to the town,
Leaving a strange grey silence when they go, —
The silence of the sands when tides are low.


This poem is in the public domain.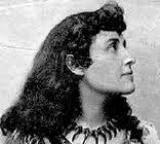 E. Pauline Johnson (1861 - 1913) was one of Canada's most popular and successful entertainers at the turn of the 20th century. The daughter of a Mohawk Native-Canadian father and an English mother, Pauline Johnson--at the age of 31--when her society expected her to marry and have children, adopted the name "Tekahionwake," created a Mohawk costume, and began touring Canada giving popular recitals of her poetry, comedy routines and plays. She was the first Native poet to have her work published in Canada, and was one of the few female writers at the time who could make an independent living from what she wrote and performed.
rhonasheridan:
So simple and so beautiful.
Posted 08/15/2018 12:29 PM
Glen Sorestad:
Thanks for introducing one of my early favorite poets to your readers. Her poems still sing for me.
Posted 08/15/2018 11:32 AM
Jean Colonomos-1:
This poem evokes in me the haunting of the sea.
Posted 08/15/2018 10:38 AM
KevinArnold:
Another great find, Jayne.
Posted 08/15/2018 09:36 AM
paradea:
Beautiful.
Posted 08/15/2018 08:50 AM
michael escoubas:
Thank you for this post, Jayne, which introduces me to a poet whose work I need to study.
Posted 08/15/2018 08:44 AM
Gilbert Allen:
A lovely description of a lovely place.
Posted 08/15/2018 08:32 AM
wordartdjc:
Beautiful...I am still attracted to the rhyming poem. In it, we find a 'singing' lilt not found in most 'modern' poetry.
Posted 08/15/2018 08:32 AM
Larry Schug:
That's what I call poetry!
Posted 08/15/2018 08:15 AM