Now "when" becomes "if."
The horizon starts to lower.
You realize you have a sell-by date.
And the deer are always going to win
      the battle of the garden.
You will never become reconciled
      to losing friends.
You are not going to lose the weight
      from that last baby.
Or finish your reading list.
Still, red wine goes with everything
There is always chocolate.
Spring never gets old.
You don't need a partner to dance.


This poem first appeared in The Paterson Literary Review.
Used here with the author's permission.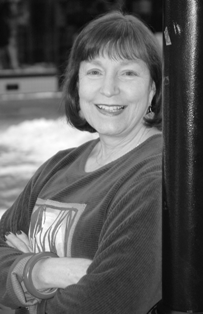 Barbara Crooker's award-winning poems have appeared in numerous magazines, journals, and anthologies and have been featured on the BBC, the ABC (Australian Broadcasting Company), The Writer's Almanac, and in the Poetry at Noon series at the Library of Congress. Recipient of many fellowships and residencies in the U.S., as well as in Ireland and France, she was also a Grammy finalist for her part in the audio version of the popular anthology, Grow Old Along with Me--the Best is Yet to Be. Barbara lives in Fogelsville, Pennsylvania; read more about her at www.barbaracrooker.com.
antoinette:
Yes, we are finite and it's best to accept that fact. Barbara your words will go on to be shared for a very long time.
Posted 08/21/2018 08:57 AM
Dorothy WildhagenD:
Very nice. You don't need a garden or music to dance either. A body does help.
Posted 08/19/2018 07:49 PM
Lori Levy:
Every line is a winner!
Posted 08/19/2018 05:33 PM
barbsteff:
You realize you have a sell by date - brilliant insight, brilliant line!
Posted 08/19/2018 05:28 PM
Mary Lou Taylor:
This poem made me want to dance.
Posted 08/19/2018 03:50 PM
peninsulapoet:
Always wonderful to begin the day with Barbara Crooker.
Posted 08/19/2018 03:36 PM
wordartdjc:
Such a positive lyrical poem I will look forward to this coming week of poetry. I am well over the age depicted in this thoughtful piece.
Posted 08/19/2018 01:28 PM
Jancan:
Wow! This one really resonates with me. Love it! Jancan
Posted 08/19/2018 01:28 PM
michael escoubas:
Barbara, wonderful expression of Jayne's week-long tribute to the joys of aging! Doing handstands out here in the Colorado Rockies--fresh oxygen drawn from your poem!!
Posted 08/19/2018 01:19 PM
Jo:
My favorite line is you don't need a partner to dance.
Posted 08/19/2018 12:32 PM
wendy morton:
Dance! Lovely.
Posted 08/19/2018 12:25 PM
cork:
I'll be keeping my eye on the horizon!
Posted 08/19/2018 12:09 PM
joecot:
This is a perfect pairing with "Patty's Charcoal Drive-In."
Posted 08/19/2018 11:32 AM
KevinArnold:
Fun/clever work. Thanks.
Posted 08/19/2018 11:12 AM
Jean Colonomos-1:
Love Barbara Crocker, love how she nails aging in this minimalist poem.
Posted 08/19/2018 09:29 AM
mjorlock:
I enjoy reading Ms. Crocker's work. She is always inventive and surprising, all the more so now that I'm a Citizen Senior.
Posted 08/19/2018 08:38 AM
Jean :D:
I love it already!!! Look forward to more of this! Your 83 year old, aging poetry fan, JD
Posted 08/19/2018 08:27 AM