Let us praise the joy of unimportance,
the gentle sway of leisure, like lilacs
bending in the May breeze.† Let's take a chance--
let the day lie before us on its back,
cozy and inviting as a hammock
strung between two big trees with canopies,
or a quilted blanket, a picnic, and Bach.
Why not?† We're a couple of jalopies
in our sixth decade with no need to rush.
Like wild geraniums, we unfold
in mornings, click ice-cubes at evening's hush.
Ah, everything's important when you're old:
Sun, rain, birds, ferns, clogged drain, mail--all equal.
We no longer have to please all people!

From Wild Fruition: Sonnets, Spells, and Other Incantations (Puddin'head Press, 2017).†
This poem first appeared in Minotaur.
Used here with the authorís permission.
†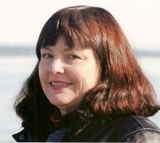 Christine Swanberg is the author of ten books and has published more than 500 poems. Her work has appeared in numerous journals and anthologies and the 2008 Poet's Market features an in-depth interview with Christine. Retired after 35 years of teaching high school, college, and graduate school, she continues to write but also enjoys gardening, singing, swimming, and traveling. Christine lives in Rockford, Illinois.
antoinette:
There's a quiet beauty to this work. Thank you for sharing this with us.
Posted 08/21/2018 08:54 AM
Jo:
Thanks Cristine. Always a pleasure to read your work.
Posted 08/20/2018 03:47 PM
Lori Levy:
Love the images in this poem. And the message.
Posted 08/20/2018 01:26 PM
paradea:
The very best part is no damnable alarm clock...just the sheer joy of waking on my own. I enjoyed this poem.
Posted 08/20/2018 10:27 AM
Larry Schug:
Indeed, we are fortunate. Well said.
Posted 08/20/2018 09:13 AM
cork:
This octogenarian will think about these important things as he swims his morning laps.
Posted 08/20/2018 09:09 AM
michael escoubas:
Spot On, Christine!!
Posted 08/20/2018 09:04 AM
KevinArnold:
Yes great fun. Even without the rhyme, jalopies is a great word here.
Posted 08/20/2018 09:00 AM
wordartdjc:
Ah, yes these quiet years. Yes, I do enjoy them but without my mate, sometimes they seem almost meaningless. Only my thought.
Posted 08/20/2018 08:47 AM
Gilbert Allen:
A nice paean to retirement--and that canopies/jalopies rhyme is nifty.
Posted 08/20/2018 08:40 AM
Charly:
Absolutely!
Posted 08/20/2018 08:15 AM
Janet Leahy:
"The gentle sway of leisure, the quilted blanket and Bach"" great poem to start the day. Thanks Christine.
Posted 08/20/2018 07:29 AM