After dinner, I try to digest
kale and cauliflower in my longing
to live longer, and a root-beer float
in case my world ends tomorrow.
 
I play the gamble game with exercise
and diet, reminded daily by obituaries
featuring people younger than me:
the impossible becoming likely.
 
I want to go out full, embraced by my life,
the grand quilt of being here. Yet memories
are remnants, and come one patch at a time.
And like moments, most fade unnoticed.
 
After a storm, I take a walk.
At the jasmine vine by my front door,
a raindrop, suspended on a stem, stops me.
What I want, what I can have, merge.


From I Got What I Came For (Penciled In, 2017).
Used here with the author's permission.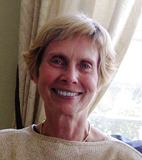 Jeanie Greensfelder is the author of three poetry collections and her work has been featured on Writers' Almanac and American Life in Poetry. A psychologist, Jeanie seeks to understand herself and others on this shared journey filled, as Joseph Campbell said, with sorrowful joys and joyful sorrows. Jeanie lives with her husband Andy in San Luis Obispo, California, where she volunteers as a bereavement counselor and where she is currently serving as Poet Laureate for San Luis Obispo County. Learn more about her at jeaniegreensfelder.com.
antoinette:
This is my second time reading this and it is as fresh as the first time.
Posted 08/24/2018 11:24 AM
Lori Levy:
I especially like the last stanza. Beautiful!
Posted 08/21/2018 11:14 PM
Dorothy WildhagenD:
I like to be inside watching the rain, storms, even thunder. It is powerful like the Almighty, Himself.
Posted 08/21/2018 10:17 PM
Sharon Waller Knutson:
Well written, humorous, insightful. Described my life to a T.
Posted 08/21/2018 08:24 PM
Jo:
A delightful poem. That first stanza makes me laugh out loud too. It is all too true.
Posted 08/21/2018 02:46 PM
croberts:
Jeanie frequently just knows how to read my soul; she says things I wish I had said. This one is delightful.
Posted 08/21/2018 01:59 PM
wordartdjc:
So incisive on our human condition Yes, as days move swiftly, we do think of our demise, a thought we never considered in our early life. It is lovely.
Posted 08/21/2018 10:33 AM
Jean Colonomos-1:
I love how lightly you trip about age and the depth of what you get to in the last line.
Posted 08/21/2018 09:34 AM
cork:
At what age did I become fascinated with obituaries?
Posted 08/21/2018 09:26 AM
KevinArnold:
Light and fun. Kale cauliflower and a root-beer float, indeed!
Posted 08/21/2018 09:03 AM
antoinette:
Jeanie- How true your words are. Well done!
Posted 08/21/2018 08:52 AM