The back of my hand
sports three fat veins
that weren't there last time I looked. 
But still that same wide thumb,
although now there is that unseen
but deeply felt twinge
when I floss or hold something tight.

The back of my hand
seems strange to me now.
The skin, thin and taut, 
the knuckles, slim
and unnoticeable,
the fingers prettied with rings,
Malian gold and sapphire—
all gone.

The back of my hand
has morphed.
It is no longer mine.


© by Ruth Gooley.
Used with the author's permission.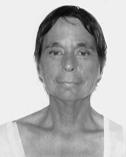 Ruth Gooley has published a variety of poems in Your Daily Poem, Ibbetson Street Review, vox poetica, and NatureWriting, among others. She also published a dissertation, "The Image of the Kiss in French Renaissance Poetry." Ruth makes her home in a cabin in the Santa Monica mountains, where she lives in harmony with the abundance of nature there.
antoinette:
My mother was just showing me how paper thin the skin on the back of her hands are. If we are fortunate, we will all get there someday.
Posted 08/24/2018 11:23 AM
Jancan:
I love the attention to detail in this poem and the way it resonates with me! Janice
Posted 08/23/2018 09:05 AM
Lori Levy:
Great last line--"It is no longer mine."
Posted 08/22/2018 01:11 PM
wordartdjc:
Self-revealing and somewhat sad, but so true. Speaking as a fellow compatriot. My great-grandson at age eight patted the back of my hands in a compassionate, consoling manner last year.
Posted 08/22/2018 09:27 AM
paradea:
Yeah, "cork", but who can make a fist anymore. Poem is spot-on for me!! I now have my grandmother's hands.
Posted 08/22/2018 09:19 AM
cork:
The wrinkles on the backs of my hands go away when I make fists.
Posted 08/22/2018 09:12 AM