how they visit
from the far-off island nations
of their lives
How they bring us shiny notions
from the future we canít possibly surmise
How the foreign languages they speak
surprise, delight and frighten us
until we remember how we pushed them
in the swing, how they shouted, laughing,
higher!† Higher!

From The Weight of Love (forthcoming from Negative Capability Press, 2018).
Used here with the author's permission.
†
†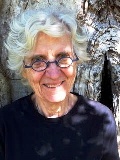 Pat Schneider was born in Missouri but now lives in Massachusetts. A poet, playwright, and librettist, she is the author of six poetry collections and ten other books, including How the Light Gets In: Writing as a Spiritual Practice and Writing Alone & With Others, both from Oxford University Press. Founder of Amherst Writers & Artists, Pat was on the adjunct faculty at Pacific School of Religion in Berkeley, California, for thirty years. Her latest poetry collection, The Weight of Love, is scheduled for release this year from Negative Capability Press. Learn more about Pat at www.patschneider.com.
antoinette:
So sweet and so true.
Posted 08/24/2018 11:21 AM
Jo:
Pat, I really like reading your fine words again. You say so much with so little.
Posted 08/23/2018 09:22 PM
Lori Levy:
Short, but powerful!
Posted 08/23/2018 01:28 PM
Glen Sorestad:
So true -- and yes, so bittersweet.
Posted 08/23/2018 09:57 AM
wordartdjc:
Such an almost bitterly sweet poem. Memorable and heartfelt. One to keep!
Posted 08/23/2018 09:33 AM
Jancan:
Concise and powerful! Janice
Posted 08/23/2018 09:02 AM
Larry Schug:
To quote Kurt Vonnegut "And so it goes". "Adult Children" tells the story of human kind in a few short lines.
Posted 08/23/2018 08:58 AM
JanetruthMartin:
this small gem says it all! thank-you!
Posted 08/23/2018 07:02 AM