What's happened to my coffee cup?
I search each room; I'll not give upó
I know I put it someplace near;
so how could it just disappear?
I stomp and stew! I rant and rave!
Who hid it in the microwave?


© by C. F. Kelly.
Used here with the authorís permission.
†
†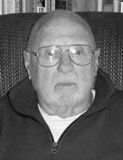 Cornelius Farrell Kelly wrote his first poem at age 12 when he fell in love with the girl across the street and put his work in her mailbox. She showed it to all of the neighbors, and Cornelius became the poet laureate of his block. Influenced early on by the poetry of Edgar Guest, Cornelius is the author of eight chapbooks, is involved with several poetry organizations, and publishes regularly. He is also a competitive swimmer. Cornelius lives in Pinedale, Wyoming.
anne.lehman2929@att.net:
Oh so wonderful and love the recognition!
Posted 09/06/2018 09:24 PM
Jo:
My hand is raised high. Funny, and so true.
Posted 08/24/2018 09:09 PM
transitions:
Perfect
Posted 08/24/2018 09:08 PM
Sharon Waller Knutson:
Loved this charming little rhyme. My husband and I always say little gremlins come in at night and rearrange our things and that's why he can't find anything the next morning.
Posted 08/24/2018 06:01 PM
Mary Lou Taylor:
So clever and so true.
Posted 08/24/2018 04:33 PM
Lori Levy:
Funny!
Posted 08/24/2018 03:45 PM
antoinette:
I'm still searching for my car keys. Good job, most of us have been there in one form or another.
Posted 08/24/2018 11:20 AM
Glen Sorestad:
I've been there, done that -- many times, in fact. Thanks for the reminder.
Posted 08/24/2018 10:07 AM
paradea:
Hahahahaha!!! I searched for my Swiffer mop the other day for fifteen minutes and it was lying across my un-made bed. What led me to put it there, I'll never know. Would have been worse if I had slept with it! Great poem.
Posted 08/24/2018 10:02 AM
wordartdjc:
This reminds me of the way in which I search for my reading glasses. Universal subject.
Posted 08/24/2018 07:36 AM