Buddy Holly,
I read,
Used to stroll Washington Square
Teaching chords
To guitar players in the park.
I wish I could change his history
The way he changed ours
So, I watch "The Buddy Holly Story"
Over and again
Waiting for a different ending
One where I get to see him grow up
But instead it always ends with me
Looking for the future
In the neck of a guitar


© by Siobhán Barry-Bratcher
Used with the author's permission.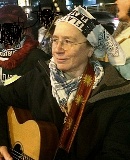 Born in Brooklyn, New York in 1954, Siobhán Barry-Bratcher writes about everything because she believes there are no boring subjects. Irish figure skaters, city dwelling possums, Jerry Garcia's artwork, recalcitrant old houses, and mornings in small towns are just a few of the topics she has covered in her poetry, prose, articles, and screenplays. Siobhán is the author of two books, Brushstrokes: A Work In Progress, a memoir about growing up in Brooklyn, and Golden, a young adult historical novel set in the late 1960s. She formerly co-hosted a spoken word series at the DeBaun Center for the Performing Arts on the campus of Stevens Institute of Technology in Hoboken, New Jersey. Siobhán also plays bluegrass guitar and the Appalachian dulcimer. She lives in Hudson County, New Jersey.
Jancan:
Very moving. Yes, he died so young! Jancan
Posted 09/08/2018 09:17 AM
Jo:
I remember dancing to Buddy Holly. We were crazy about his music. Thank you for sharing your moving poem.
Posted 09/07/2018 11:10 PM
transitions:
Well done, poignant poem. So many. 'endings' I wish I could change play nightly in my brain...
Posted 09/07/2018 08:38 PM
Jean Colonomos-1:
A moving and well wrought poem.
Posted 09/07/2018 08:13 PM
Dorothy WildhagenD:
Has a lot of impact. Change your instrument.
Posted 09/07/2018 11:12 AM
wordartdjc:
Lovely poetry on an unusual subject. She writes with such heart. I admire her style. Yes, thank God for this sweet person gone so early.
Posted 09/07/2018 10:24 AM
paradea:
I like what this poem says!!
Posted 09/07/2018 10:17 AM
Siobhan :
Thanks, Michael. His stuff was so pure, and happy, and innocent. So hard to imagine the attitude a lot of older people took toward this new "dangerous" form of music back then. I think every aspiring young rock and roll player should start off by learning some of his songs.
Posted 09/07/2018 09:33 AM
Michael:
Well stated Siobhan. I remember Buddy, and to this day rejoice in the gift of his music. Thank you.
Posted 09/07/2018 09:26 AM