He hides in the corner, listening
to the story, then watches from afar
as patchwork elephants take shape on desks
around the room.
Quietly slipping into an empty place,
he loops thin arms around
the paper in front of him,
not yet ready to share the vision in his head.
A square of bright green finally appears
in the middle of the page,
a hard-used glue stick attaching
triangle pink ears,
rectangle legs,
and spiral trunk with great precision.
Only then, with a smile on his face,
does he adorn his creation
with a crazy-quilt of colored shapes
and, with broken crayon clutched in his hand,
adds splashes of day-glo orange around
the edge of the black paper
until his singular elephant, legs waving in the air,
rolls with abandon in a field of light.


© by Kathleen Phillips.
Used with the authorís permission.
†
†
†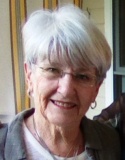 Kathleen Phillips, author of ten chapbooks of poetry, lives and writes in Milwaukee, Wisconsin. Life has changed a lot recently: a move from a family home in the country to an apartment in the city, the death of her husband Jim, and all the grandkids heading off to college have brought a different pattern to her days. But Katy is enjoying the energy of city life and is now writing creative non-fiction in addition to poetry. She has also co-founded a Writers' Workshop at the senior residence she now calls home.
Jancan:
Beautiful poem about discovery of what's inside and learning to express it! Janice
Posted 09/08/2018 09:20 AM
transitions:
Love the elephant birth...and me? I can still smell the finger-paint. Judy
Posted 09/07/2018 07:49 PM
Mary Lou Taylor:
So touching.
Posted 09/07/2018 05:21 PM
rhonasheridan:
What a beautiful elephant,! Lovely poem
Posted 09/07/2018 05:30 AM
Dorothy WildhagenD:
Disarming..
Posted 09/06/2018 10:33 PM
barbsteff:
Very fetching picture of a shy but single-minded boy creating th elephant of his dreams.
Posted 09/06/2018 06:23 PM
tiddles:
I am right there with you, Katy, watching this boy and so many others as light bulbs go off in their heads and ideas flow from brain to hand to paper. As a former elementary school art teacher you made me miss the kids so much this morning. Wonderful poem! MZW
Posted 09/06/2018 12:36 PM
Jo:
Love that elephant kicking up his legs. Really fun poem Katy. Thank you.
Posted 09/06/2018 11:38 AM
wordartdjc:
We can truly see this small quiet child build his elephant and then admire what he has accomplished. Very sweet poem!
Posted 09/06/2018 10:56 AM
DavidTookey:
Wonderful. Thank you for this lovely work!
Posted 09/06/2018 10:51 AM
Charly:
Lovely poem!
Posted 09/06/2018 10:39 AM
Janet Leahy:
So good to see the smile of accomplishment as this work of art takes shape, love the art down by young children, it reveals so much. Thanks for a great poem Katy.
Posted 09/06/2018 09:14 AM
cork:
Kathleen, Your poem forced me out of my chair to view two skiing colored cut-out pieces done by my granddaughters. I saw them in a new light. Thank you.
Posted 09/06/2018 09:03 AM
Larry Schug:
Too bad I can only hang this work of art on the wall of my imagination--thanks to the words.
Posted 09/06/2018 08:28 AM
paula:
Love the day-glo orange and the picture of the elephant kicking up his legs. From one K teacher to another, great poem!
Posted 09/06/2018 06:41 AM