Catlike, her sleuthing adventures were legendary.

 
From tabby, to tiger, queen, to tom, purebred,
to domestic, for decades her transformative abilities
captured female readers around the world.

 
Keen, charismatic, cosmopolitan, her fearless nature
embodied a feline soul. Ever landing on her feet,
her righting reflex shaped generations of women
to aspire to be more, to possess "girl power."
Free-ranging and independent, you'd never find Nancy
© by Jeannie E. Roberts.
Used with the author's permission.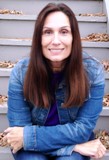 Born in Minneapolis, Minnesota, Jeannie E. Roberts is the author of five books, most recently The Wingspan of Things (Dancing Girl Press, 2017). Jeannie is also an artist and photographer and enjoys spending time outdoors near her home in Chippewa Falls, Wisconsin, where she listens to birds, wanders through forests, and takes walks with her 14-year-old golden doodle. Learn more about Jeannie at at www.jrcreative.biz.
Mary Lou Taylor:
The Secret in the Old Clock, The Bungalow Mystery, and I could keep going. I read them all. You've caught the essence of Nancy. I may have the titles a bit askew, but I remember each one. Poem fun to read, too.
Posted 09/09/2018 02:37 PM
transitions:
Loved the tongue-in-cheek humor...right on the money, landing on her toes :)
Posted 09/07/2018 07:41 PM
anne.lehman2929@att.net:
This is such a fun poem especially since I love ND.
Posted 09/06/2018 08:19 PM
Jo:
Really like your poem, Jeannie. I couldn't wait to read my next Nancy Drew book. I can still see her in the blue roadster.
Posted 09/06/2018 04:17 PM
KevinArnold:
Guys liked Nancy,too, at least this one. She helped introduce me to fiction, which led to my novel. I still remember her sporty coupe and the mystery she solved with the refrain "Time means money. Look in the clock."
Posted 09/06/2018 12:44 AM
Michael:
Jeannie's poem is insightful and winsome, full of deeper truth than seems evident with just one reading. Well done, Jeannie!
Posted 09/05/2018 04:26 PM
wordartdjc:
I did read many Nancy Drew novels in my very early years. She was one of our first Women's Lib personalities and did much to make a young woman know she could 'think for herself'.
Posted 09/05/2018 08:15 AM