Face painted like a mime,
bright blue umbrella
matching necktie and shirt,
trailing a green feather train, he
brings color to the drab Arizona desert.
 
Perched on our picnic table, the peacock
preens and primps like a pampered prince
as he admires his reflection in the glass,
hopping down only to drink and eat until a woman
with a long gray ponytail shows up with a net.
 
She calls him Romeo and says he escaped
from her yard three miles away a week ago. He flies
to the roof and no amount of cooing or coaxing
will convince him to come down. He picked you
as his owner, she says, and leaves a sack of feed.
 
We learn to interpret his repertoire of songs.
Three honks means: I'm hungry. Where's my dinner?
A high pitched screech means the crows,
cows or javelina are trying to steal his food.
Then a month later, he vanishes. The phone rings
 
three days later. Romeo has returned home.
She buys him a peahen she calls Juliet.
It was love at first sight. She senses
my sadness and says: You can visit
any time. We can share joint custody.


© 2018 by Sharon Waller Knutson.
Used with the author's permission.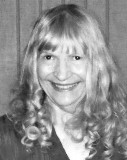 Sharon Waller Knutson lives in a house her husband, Albert, built out of clay from the land on a dirt road in the middle of the wildlife habitat and open range of the Arizona desert. A retired journalist, she writes poetry for readers who don't normally read poetry. In 2014, Sharon sold her chapbook, My Grandmother Smokes Chesterfields, to winter visitors from all over the world in a café where her husband played guitar and sang country music. Her customers told her they expected her to publish a new poetry book when they returned each year so, in 2015, she published Desert Directions, about her life in the desert. In 2016, she published They Affectionately Call Her a Dinosaur, poems about her customers and other seniors in her life who started new careers, businesses, and relationships after they retired. And in 2017, Sharon published I Did it Anyway, poems about how she broke the glass ceiling in the newspaper business in the '60s and '70s, when women were typically relegated to the society pages. This year, Albert retired from playing music so Sharon now operates her bookselling operation online.
barbsteff:
Shades of Flannery O'Connor, who lived among peacocks on her family's farm in Georgia. Her writing had rather a peacock personality - prickly and wise.
Posted 09/11/2018 12:00 PM
kpitre@bosscreek.com:
Ah he was quite the sight and he brought an element of magic every where he went. Thanks for your poem.
Posted 09/10/2018 10:39 PM
joecot:
Peacocks are pretty but have particularly prickly personalities. Nice poem. Personable.
Posted 09/10/2018 11:21 AM
wendy morton:
Oh, Romeo!!
Posted 09/10/2018 11:18 AM
Jean Colonomos-1:
Lovely poem to greet the day.
Posted 09/10/2018 10:56 AM
cork:
I love alliteration. Thank you.
Posted 09/10/2018 08:51 AM
Larry Schug:
What a cool story--wonderfully and poetically told.
Posted 09/10/2018 08:42 AM
jeeger:
My mom raised peacocks.She had a pair named Romeo and Juliet. Her last pair was named Penny and Blue. Penny died two years ago. She was twenty-five years old. Blue died this January. He was twenty-seven. This poem stirred ALOT of wonderful memories. Thank you.
Posted 09/10/2018 05:20 AM