She arrives mid-September,
the first one I've seen,
a message from E. B. White.
Her belly, a bright scariness:
yellow dots on black,
the Halloween orange segments
of her eerie legs.
A huge bobbin body suspended
between roof and hedge.
I decide against the toxic shock
hidden in the garage.
Then, there are two, side by side
in different apartments.
They glide up their elevators,
then back down like Segovia on strings
into the doily each has created overnight.
Next day they write--
not a complicated alphabet:
the M, the W, maybe a Z.
Driven like poets,
so many letters on a page
before nightfall, before death--
letter after letter, word after word,
the only way to spin a life.


This poem first appeared in The South Carolina Review (Spring 2016).
Used here with the authorís permission.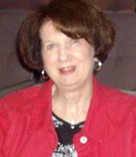 Janice Townley Moore lives in the mountains of North Carolina, where she is active in the North Carolina Writers' Network.†She has published a chapbook,†Teaching the Robins, with Finishing Line Press.
†
Wilda Morris:
All I can say is, "Wow!"
Posted 09/17/2018 11:07 AM
wordartdjc:
Lovely
Posted 09/15/2018 12:15 PM
barbsteff:
astounding!
Posted 09/14/2018 03:19 PM
Sharon Waller Knutson:
I loved this poem. With brilliant images, Janice showed me a spider I had never seen before. It was like watching a Youtube video. I loved how Janice personified the spider and compared her to a poet with a companion in a separate apartment riding side by side up and down elevators and writing on the walls. It was unique, charming, delightful and a new way of looking at scary spiders.
Posted 09/14/2018 08:34 AM
Jean Colonomos-1:
You spin a wonderful web.
Posted 09/14/2018 06:36 AM
paula:
I wrote a poem about this too, some years ago, for a Rattle competition. I love yours. And what a coincidence!
Posted 09/14/2018 05:50 AM