I have a little shadow that goes in and out with me,
And what can be the use of him is more than I can see.
He is very, very like me from the heels up to the head;
And I see him jump before me, when I jump into my bed.

The funniest thing about him is the way he likes to grow —
Not at all like proper children, which is always very slow;
For he sometimes shoots up taller like an india-rubber ball,
And he sometimes goes so little that there's none of him at all.

He hasn't got a notion of how children ought to play,
And can only make a fool of me in every sort of way.
He stays so close behind me, he's a coward you can see;
I'd think shame to stick to nursie as that shadow sticks to me!

One morning, very early, before the sun was up,
I rose and found the shining dew on every buttercup;
But my lazy little shadow, like an arrant sleepy-head,
Had stayed at home behind me and was fast asleep in bed.


This poem is in the public domain.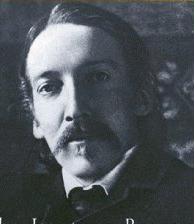 Scottish writer Robert Louis Stevenson (1850-1894) is, for many of us, the first poet to whom we were introduced, through his wonderful book, A Child's Garden of Verses. Though he came from a family of engineers and it was expected he would follow suit, Robert wrote stories even as a child; no one was really surprised when, three years into his engineering studies at the University of Edinburgh, he abandoned them to study writing. Always an avid traveller, despite lifelong poor health, Robert spent much of his life looking for a place to live that offered some respite from his illnesses. A prolific writer of poetry, fiction (Kidnapped, Treasure Island, and The Strange Case of Dr. Jekyll and Mr. Hide are his best known), travelogues, and political essays, he is properly revered today as a major literary figure, although in the early twentieth century, he was temporarily dismissed and disdained as "a children's author." Ultimately, Robert ending up living in Samoa, happy and productive until a stroke abruptly ended his life at the age of 44. 
Wilda Morris:
This was one of my favorite poems when I was a child - and I still love it. Thanks for sharing it! And for keeping the poems on-line. I was out-of-town last week, so I'm just trying to catch up.
Posted 09/17/2018 11:09 AM
Jo:
I just saw this delightful poem. Thank you for sharing the memory.
Posted 09/14/2018 05:25 PM
Lori Levy:
I always liked this poem, too.
Posted 09/13/2018 09:13 PM
wordartdjc:
Just one more note: Two of my great-grands spent many years of their childhood living in Samoa. Their daddy was a park ranger on an out island there for almost four years.
Posted 09/13/2018 05:49 PM
wordartdjc:
Yes, this is my favorite poem from my youth. I recite it to all of my great-grandchildren. I also see that each of them has a copy of RLS's delightful poetry.
Posted 09/13/2018 05:46 PM
Mary Lou Taylor:
One of my childhood favorites. So many of the poet's poems come to mind now and then.
Posted 09/13/2018 04:36 PM
Michael:
The elegant composition skills of the masters is often overlooked and little appreciated. Thanks for this post, and, this poet's taking notes!
Posted 09/13/2018 03:37 PM
anne.lehman2929@att.net:
I love the quiet magic in this poem.
Posted 09/13/2018 09:46 AM
Jean :D:
I still have this book my mother (a poet herself)read to my sister & I for bedtime stories. How I love rereading this again, thanks.
Posted 09/13/2018 08:09 AM
Janet Leahy:
Thanks for the memories of loving this poem as a child.
Posted 09/13/2018 06:12 AM