You deserve a morning person,
someone who bounces out of bed
like, well…you know how you do.

I can't even look at your shiny
morning face without seeing
my sheet wrinkles, bed head,

and pre-coffee frown. I need to ease
into day with Debussy.  You're
the cymbals in a Sousa march.

I'm the cat in a You Tube video
who falls off the counter
when you erupt.


© by Alarie Tennille
Used with the author's permission.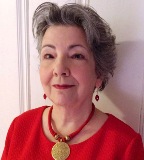 Alarie Tennille was born and raised in Portsmouth, Virginia. A Phi Beta Kappa, she graduated from the University of Virginia in the first class that admitted women. She met her husband, graphic artist Chris Purcell, in college and they now live in Kansas City, Missouri, where Alarie serves on the emeritus board of The Writers Place. Alarie believes her writing skills were born from her parents' knack for storytelling–long, meandering tales she asked to hear again and again. "There was usually dance music in the back-ground," she says, "the sounds of cicadas, and the clink of ice in glasses of sweet tea. Weekends brought rolling surf, laughing gulls, and the calliopes of amusement park rides." Learn more about Alarie at www.alariepoet.com.
Wilda Morris:
What fun!
Posted 09/17/2018 11:10 AM
Ginny C.:
Great ending!
Posted 09/12/2018 11:47 PM
Sharon Waller Knutson:
I love this poem. It is clever, charming, insightful and humorous. The toaster could be a metaphor for a mate who is a morning person and is cheerful and bright and a go getter while the "not a morning" person slogs along. The last lines are brilliant. "You're the cymbals in a Sousa march. I'm the cat in a You Tube video who falls off the counter when you erupt."
Posted 09/12/2018 01:42 PM
Michael:
Amazing lines about the commonplace. But this excellent poem is anything BUT commonplace! Thank you, Alarie.
Posted 09/12/2018 09:37 AM
Larry Schug:
Short and so sweet!
Posted 09/12/2018 08:34 AM
rhonasheridan:
So do I!
Posted 09/12/2018 08:27 AM
paradea:
I like this poem!!
Posted 09/12/2018 08:22 AM