It was a visit to the old neighborhood
a drive by the house where I was born.
Memories flashed like heat lightning
single frame home movies, one by one:

Daddy long leg webs on the window
spider's graceful march along my arm
the cicada song announcing afternoon heat
a step onto a bee in the front-yard clover

ice pops dripping red on a lucky day
Jersey tomatoes on white bread thick with mayo
our lemonade stand sticky with spilled sugar
dinner with butter-covered corn from Henry's farm

catching pollywogs from the pond in the woods
lying on the soft backyard grass to watch
animal clouds form in the summer sky
folding daisy stems to make crowns for our hair

rainy day hours spent with coloring books
sunny day bike rides, hopscotch and jump rope
afternoons reading Nancy Drew mysteries
Parcheesi and Canasta in the shade--

With even the few improvements
the neighborhood houses look the same
but the streets have changed, empty of children.
Like me, that play, is gone.
© by Tere Sievers.
Used with the author's permission.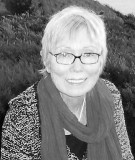 For Tere Sievers, as a New Jersey transplant, it took a while to embrace the subtle seasons of Southern California. A long marriage to a native Californian, two daughters, and three grandchildren, though, have set deep roots for her in Long Beach. Author of Striking Distance, a chapbook published by Arroyo Seco Press, Tere says, "Writing poetry has helped me understand loss and the passage of time."
teresievers:
Dear Readers, First, thank you so much for your words of appreciation, they warm my heart. A word to Barbsteff. You got me thinking, so I checked in with Wikipedia. Pholcidae, commonly called daddy long-legs spiders also known as cellar spiders, do spin webs. You can read lots more about them if interested. Thank you for your interest. Tere
Posted 09/21/2018 03:06 PM
Jancan:
Nostalgia at its lovely best! Janice
Posted 09/18/2018 09:45 AM
Lori Levy:
Love all the details, the memories.
Posted 09/18/2018 02:03 AM
Dorothy WildhagenD:
Necessary to keep in your archives.
Posted 09/17/2018 05:34 PM
barbsteff:
Good memory poem, and I have some similar memories. I don't think Daddy Long Legs spin webs, though. They're not spiders, only masquerade as such. Maybe there were real spiders too, busy spinning.
Posted 09/17/2018 04:35 PM
NormaB:
Really enjoyed your poem. We must be the same age--Nancy Drew and Canasta--my summers exactly!
Posted 09/17/2018 03:41 PM
wordartdjc:
Touching. We all should place our sweet memories in poetry.
Posted 09/17/2018 01:52 PM
peninsulapoet:
Beautiful poem, capturing both the love and the loss.
Posted 09/17/2018 12:29 PM
Wilda Morris:
Sad but true. Excellent poem. I was especially happy to find Nancy Drew in the poem.
Posted 09/17/2018 11:03 AM
cork:
Beautiful memories!
Posted 09/17/2018 08:54 AM
Larry Schug:
Amazing how a good poem, such is this poem, can lead you to see things that are no longer here. Good work!
Posted 09/17/2018 07:50 AM