As a child I begged
for buttermilk,
the creamy texture
promising to be
vanilla milkshake.
My father enjoyed it so,
a chaser for his liverwurst on rye,
brown mustard and raw onions.
So much of his joy
requiring grown-up taste.
My mother gave me peanut butter
on squishy white bread,
mini mountains of sugar-boiled fruit
dotting the middle of my sandwich.
Preacher-like,
she rationed potato chips,
insisted on whole milk
to wash them down.
Later, I'd sneak to the fridge
with my jam glass,
Tom and Jerry cheering me on,
spend all I dared
with mystical confidence
to taste the forbidden sample.
Tears welling in my eyes,
I spat sour milk and
disappointment
into the sink,
mother's eyebrows
sympathetically raised
behind the open fridge door.
"Buttermilk! Blah!"


© by Gretchen Friel.
Used with the authorís permission.
†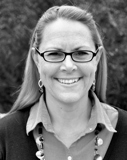 Gretchen Friel teaches English, German, and creative writing to high school students in Northern Illinois, where she lives with her husband. They have five adult children between them, and four grandchildren. Most recently, Gretchen has written a poetic memoir and is sharing one poem at a time on her Instagram site: @rescuedpoeticmemoir.
Wilda Morris:
The comments on this one are almost as much fun as the poem!
Posted 10/22/2019 05:32 PM
transitions:
I thought it Must be great as it was rationed out.... but BLAH, here too!!!I never had it again.
Posted 09/19/2018 08:24 PM
wordartdjc:
Very Funny. So glad my mother was not like this one!
Posted 09/19/2018 01:11 PM
Lori Levy:
Great. Love the humor!
Posted 09/18/2018 02:43 PM
Jean Colonomos-1:
Your poem reminds me of my mother who, like your father, was the only one in our household who loved buttermilk. But you're braver than me; I wouldn't touch it with a ten foot pole.
Posted 09/18/2018 11:06 AM
KevinArnold:
Fun!
Posted 09/18/2018 10:37 AM
cork:
I love the liverwurst sandwich and all those trimmings.
Posted 09/18/2018 08:56 AM
jeeger:
LOL! This reminded of the time I tried to make my own buttermilk by putting a stick of butter in my glass of milk and it was a mess so I tried to push it all down the sink drain, plugging up the sink. I had to sit a chair all afternoon! Thanks for sharing your poem Gretchen.
Posted 09/18/2018 06:54 AM