September and autumn creeps
into summer's room     so many
dresses – shade upon shade
of green – too many    the young girl
wants something richer to bring out
the cream of her skin  the sweep
of her dark hair    she fingers an oak
leaf   imagining herself dancing
in that shape, fiery, across the hills
smiles   yes   that will do


© by Nils Peterson.
Used with the author's permission.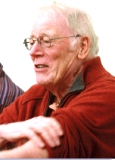 Nils Peterson is Professor Emeritus at San Jose State University. In 2009, he was chosen the first Poet Laureate of Santa Clara County. He has published poetry, science fiction, and articles on subjects as varied as golf and Shakespeare, and his work was featured in Local Habitations, a collection of work by fellow poets laureate of Santa Clara County. Enjoy reading Nils' memoir at http://www.echapbook.com/memoir/peterson/.

Lori Levy:
Especially like the last four lines. Beautiful.
Posted 09/20/2018 10:17 PM
Arlene Gay Levine:
Wonderful...love the metaphors for Mother Nature's glorious cycles.
Posted 09/20/2018 04:43 PM
DavidTookey:
Wonderful!
Posted 09/20/2018 10:05 AM
Larry Schug:
I like the spacing within the lines and the elimination of punctuation, not to mention an awesome poem.
Posted 09/20/2018 08:29 AM