The guy in front of me in traffic
is letting everyone in,
waving at the cars like a policeman
or a pope--
and I really have no patience for all
the indulgence
and magnanimity at my expense

because Iím late for the gratitude meeting,
which is only an hour long.
And if I miss the first ten minutes
of silent meditation Iím going to scream,
because itís my favorite part and because
it helps me remember to breathe.
And Iím going to throttle this guy

if he doesnít stop deferring
to all of the trundling humanity
turning left onto Main
at this intersection where Iím fuming,
not feeling the love,
not feeling the gratitude,
feeling only resentment and disdain

because I have the right of way.
Would you rather be right
or have peace? Let go, I can hear them say
at the gratitude meeting three blocks away,
striking the rim of the Tibetan singing bowl,
which begins vibrating,
and keeps on vibrating,
like this steering wheel I canít stop clenching.


© by Paul Hostovsky.
Used with the author's permission.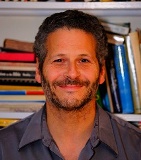 Paul Hostovsky is the author of nine books of poetry, most recently, Is That What That Is (FutureCycle Press, 2017). His poems have won a Pushcart Prize, two Best of the Net awards, and have been featured on Poetry Daily, Verse Daily, and The Writer's Almanac. He makes his living in Boston as a sign language interpreter and Braille instructor. Learn more about him at www.paulhostovsky.com.
wordartdjc:
Amazing
Posted 09/24/2018 06:45 PM
Lori Levy:
Great! Love the humor.
Posted 09/21/2018 03:58 PM
barbsteff:
Excellent read on a human trait. My favorite lines: "Would you rather be right/or have peace?"
Posted 09/21/2018 01:35 PM
wendy morton:
My gratitude for Paul's.
Posted 09/21/2018 12:27 PM
Jean Colonomos-1:
Amen. I'm going to take this in my car when I drive today in LA traffic.
Posted 09/21/2018 11:24 AM
Sharon Waller Knutson:
I loved this poem like I do all of Paul's poems. It was well written and had humor, insight and wisdom. I can totally relate. I am the most impatient person on the planet and the only time I Zen out is during yoga meditation.
Posted 09/21/2018 11:18 AM
Janet Leahy:
I'm familiar with that grip on the steering wheel that closes your poem so perfectly. I'll remember this poem when the "trundling humanity" clogs my fast forward lane of travel.
Posted 09/21/2018 10:00 AM
KevinArnold:
Great fun.
Posted 09/21/2018 09:43 AM
cork:
I love the contrast.
Posted 09/21/2018 09:01 AM
paradea:
Hahahaha!!! Love this! Serenity, now, Paul. Serenity, now!!
Posted 09/21/2018 08:53 AM
Larry Schug:
After reading many of your poems over the years, Paul, I think it would be such fun to hang with you for an afternoon. Another good poem with depth sprung from humor.
Posted 09/21/2018 08:33 AM
teqnita@yahoo.com:
Well done- you sound like a New Yorker and since I am one I relate! Loved your poem!
Posted 09/21/2018 07:24 AM