Tuliptrees, sycamore, American holly.
A water moccasin around a limb.
A brook with flecks of fool's gold.
Broken shards of glass.
Crayfish and spotted salamanders,
Common shiner minnows.
A vine dangling over the creek.
Slick wet rock.
Green moss on a stone.
A dragonfly--Devil's darning needle--
On a leaf.
Corn snake in the culvert.
Thornbush blooming white blooms.
Pokeberries, Silvery Spleenwort ferns.
Bare feet in the cold water.
Hunter's knife in sheath.
Crew cotton socks,
Old leather boots from Sears on bank.


© by Danny P. Barbare.
Used with the authorís permission.
†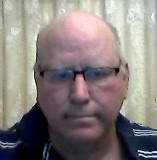 Danny P. Barbare has had work published in numerous online and print journals and is the author of two books. He lives with his family in Greenville, South Carolina, where he draws inspiration from the Blue Ridge mountains, and from the lowlands of Charleston.
barbsteff:
Great use of description/careful observation to set the scene.
Posted 09/30/2018 01:30 PM
Lori Levy:
Beautiful scene. Love all the details.
Posted 09/29/2018 06:26 PM
anne.lehman2929@att.net:
Ahh, thanks for the walk on this lovely autumn day.
Posted 09/29/2018 10:12 AM
cork:
Beautiful collection of memories.
Posted 09/29/2018 10:06 AM
wordartdjc:
Lovely tree and plant descriptions
Posted 09/29/2018 08:40 AM
Jancan:
This very descriptive poem takes me back to childhood! Janice
Posted 09/29/2018 08:31 AM