When carpet was plush or shag,
appliances Avocado,
or Harvest Gold, we bought
an eight-foot, down-back
sofa from Ross Maher Home
in Garden Grove. Castle Coin
the color was called,
but really it was yellow
threaded with gold, echoing the tile
in the big coffee table
we'd found at Bullocks Lakewood.
 
Every suburb we shopped or lived
in was named to speak of nature:
La Palma, Cypress, Garden Grove
promised an arbor or shady glen.
But our life was indoors,
in the deep grass of green shag
under the light of swag lamps,
our three babies climbing over
golden hills of sofa and chair.
The whirr of the vacuum, the blender,
the swish of dishes washing:
sweet enduring music of our sphere.


From Gravity: New & Selected Poems (Tebot Bach, 2018).
Used with the author's permission.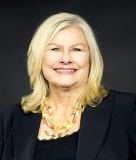 Donna Hilbert writes and teaches private workshops from her home in Long Beach, California. A monthly contributor to the online poetry journal Verse-Virtual, her work is widely published in multiple languages and she is featured in the documentary, "Grief Becomes Me: A Love Story." Donna's most recent collection is Gravity: New & Selected Poems, from Teboh Bach, and she has several poems in The Widow's Handbook (Kent State University Press). Learn more about her at www.donnahilbert.com.
transitions:
Yes..loved it
Posted 09/28/2018 07:23 PM
Jo:
Thank you for this look back into my past as well. How well I remember all you describe. As always, Donna, your wonderful poetry.
Posted 09/28/2018 02:53 PM
Jean Colonomos-1:
a fun and endearing poem to set off into the day. Thanks.
Posted 09/28/2018 09:22 AM
wordartdjc:
Sweet remembrances for some. The mind does like to go back to those early 'happy' days
Posted 09/28/2018 08:41 AM
michael escoubas:
Oh, how I remember! Thanks for bringing all this back! Let's hear it for the 1960s fashions!!
Posted 09/28/2018 08:16 AM
Larry Schug:
You're right about all the place names evoking Nature. Who knew we'd destroy the very essence of a place that sleeps inside these name. Yet the warmth of family and home shines through in these words.
Posted 09/28/2018 07:42 AM
KevinArnold:
Great fun!
Posted 09/28/2018 07:35 AM
Gilbert Allen:
Lots of resonant images, and that last line is perfect.
Posted 09/28/2018 07:32 AM