On his way to work, he buys
a double espresso and a croissant.†
Sole breadwinner, he says he deserves
that perk, while I worry the bills†
we canít afford to pay, do the wash,
and drink black coffee from a chipped mug.

Octoberís trees dazzle with color,
leaves crunch underfoot, scent like cinnamon
pulses the air. I push one child in the stroller,
cajole the other to stay close as we head
to the market to buy ground beef on sale.
A sudden wind whips dead leaves in our faces.

On impulse, I stop at the coffee shop
where I imagine him whipping his wallet out
like a man who prefers his Porterhouse rare.
I lift one boy onto my hip, steer the other
to the counter and with the meatloaf money
buy a foamy latte and two hot chocolates.


This poem first appeared in U.S. 1 Worksheets in 2017.
Used here with the author's permission.

†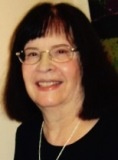 After working for decades as a social worker, Nancy Scott is now an author and an artist. She started writing poetry in the mid-'90s, hoping that her work would eventually be published somewhere; her tenth book was recently released. A chance conversation about a workshop got Nancy interested in collages; her work is now frequently hung in juried shows and, sometimes, her poetry and art are featured together. Learn more about Nancy at www.nancyscott.net.
tiddles:
Love it!
Posted 10/13/2018 06:06 PM
rhonasheridan:
A great poem Nanćy.. I've been there Wheni itwas scallops or haddock,!
Posted 10/09/2018 12:09 PM
Jo:
That's the spirit. Really like your poems, Nancy.
Posted 10/07/2018 06:40 PM
barbsteff:
Yay! for the poet. That'll fix 'im.
Posted 10/07/2018 04:14 PM
wordartdjc:
And probably very true.
Posted 10/07/2018 03:26 PM
Lori Levy:
Great poem. I love the ending and agree with the other comments people made.
Posted 10/07/2018 12:45 PM
Sharon Waller Knutson:
I love Nancy Scott poems. She has a talent for showing the realities of life with good writing skills, keen insight, unique images and irony.
Posted 10/07/2018 11:37 AM
bettiebill:
I agree with Kevin. The Porterhouse line is fantastic. I've added it to my collection of favorites sentences.
Posted 10/07/2018 11:30 AM
Jean Colonomos-1:
Such a wonderful twist ending.
Posted 10/07/2018 10:45 AM
cork:
I can't think of a better use for the meatloaf money.
Posted 10/07/2018 09:59 AM
KevinArnold:
Great fun. "like a man who prefers his Porterhouse rare." Is a great line.
Posted 10/07/2018 09:28 AM
Sarah Russell:
Perfect!
Posted 10/07/2018 08:07 AM
plgoodman:
Hooray! You go girl!
Posted 10/07/2018 07:25 AM