Stout little ladies
populate our town
wearing bright gowns
hair in buns.
From ears, chains dangle.
From noses, drip.
They rarely speak
but sometimes shout
when fire breaks out.
They never philander
with bystanders
but somehow when it matters
they propagate
at prodigious rate
on new streets for new houses,
new babes
in bright blouses.


© by Joe Cottonwood.
Used here with the authorís permission.
†
†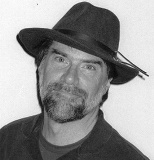 Joe Cottonwood has built or repaired hundred of houses in his day job as carpenter/contractor. Nights, he writes. Originally from Maryland, with a definite bias toward things Appalachian, Joe eventually moved west to La Honda, California, where he built a house under redwoods on a mountainside, raised a family, and remains there today, still living with the same woman for half a century and now playing with the grandkids. His newest book of poetry is Foggy Dog: Poems of the Pacific Coast. Learn more about him at www.joecottonwood.com.
Robert Walton:
"New babes in bright blouses" promise the best kind of help!
Posted 10/09/2018 02:10 AM
Lori Levy:
Unique metaphor!
Posted 10/08/2018 01:04 PM
wordartdjc:
Sweet and yes, again we celebrate the rhyme... young persons love it!
Posted 10/08/2018 08:43 AM
Sharon Waller Knutson:
I love the metaphor of fire hydrants as stout little ladies wearing bright gowns and their hair in buns. The poem was unique, charming, humorous and delightful. It had perfect rhythm.
Posted 10/08/2018 08:27 AM
cork:
The rhymes, the rhymes, the rhymes.
Posted 10/08/2018 08:23 AM
paradea:
Everything is a poem!! Love this!!!
Posted 10/08/2018 07:58 AM
Larry Schug:
Through new eyes...
Posted 10/08/2018 07:40 AM