Late afternoon in the valley, the trees
wear halos.† Then twilight steals the sun,
kitchen lights blink on like stars,
and coming home is a sigh
and the smile of someone waiting.†
Your day is told in half sentences
and nods and questions answered --
nothing new, but new enough to tell again.†
After supper, after gin rummy and pages
turning and the rhythmic click of a sweater
growing row by row, bed greets you
like a childhood friend, and sleep
keeps company with the blue black sky
and the owl's whispered flight.


From I Lost Summer Somewhere, forthcoming from Kelsey Press in 2019.
Used with the authorís permission.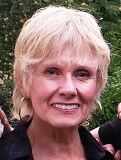 Sarah Russell lives in State College, Pennsylvania with a patient husband and a curly dog named Smudge. Her poetry has appeared in Red River Review, Misfit Magazine, Shot Glass Journal and Your Daily Poem, among others. Her first collection I Lost Summer Somewhere will be published by Kelsey Press in 2019. Learn more about Sarah at www.SarahRussellPoetry.net.
†
†
†
Sarah Russell:
Thanks, Everyone!
Posted 10/11/2018 09:56 AM
Lori Levy:
Soothing, beautiful.
Posted 10/10/2018 08:13 PM
Michael:
Thank you Sarah for a poem rich in contemplative images. This is home as one would like home to be!
Posted 10/10/2018 03:11 PM
KevinArnold:
Lovely poem.
Posted 10/10/2018 11:47 AM
Sharon Waller Knutson:
I love Sarah Russell poems because they capture my heart. The writing is excellent, the imagery exquisite and picturesque and the language beautiful.
Posted 10/10/2018 09:37 AM
Jean Colonomos-1:
You are such a good poet. Someone to be influenced by....
Posted 10/10/2018 09:36 AM
plgoodman:
"Coming home is a sigh and a smile?" How absolutely true and beautiful. Thank you Sarah.
Posted 10/10/2018 07:47 AM
wordartdjc:
So comforting and sweet. Oh, that all homes could be as peaceful.
Posted 10/10/2018 07:39 AM