In white aprons like tablecloths
fitted around their waists
they swish and dart so seamlessly
among the sprawl of sidewalk
tables with a view of the medieval
stone church of St. Germain and the wide
tree-arched boulevard alive with Parisians
and tourists, a chaos of buses and cars.
And I think: so this is their profession, these men
with grey at their temples, carved lines in their brows.
I wonder how many years they have served this way,
placing upon the round surface this
creme cafe, this cafe noir
like small completed masterpieces
as pigeons scoot but never dare
get too near their gliding feet.


From A Stone to Carry Home (Salmon Poetry, 2018).
Used here with the authorís permission.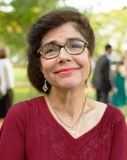 Andrea Potos is a longtime independent bookseller and the author of numerous books. She loves to travel and garners much inspiration that way. Her Greek grandparents and their spirit have been an abiding presence and inspiration throughout Andrea's life and poetry. A resident of Madison, Wisconsin, she writes in longhand, and lives for cafes.
Lori Levy:
Very picturesque! Great poem.
Posted 10/11/2018 10:45 PM
Stephen Anderson:
Been there, saw that. Nice poem, Andrea.
Posted 10/11/2018 05:01 PM
MLove:
I discovered The Columbia (in Tampa) for the first time this year, and yes, there are still elegant waiters there. A beautiful step back in time - as is this poem!
Posted 10/11/2018 03:31 PM
Jo:
Takes me back to that very cafe. How wonderful to be there again.
Posted 10/11/2018 12:40 PM
peninsulapoet:
Takes me back to my first trip to Paris. <3
Posted 10/11/2018 10:31 AM
wordartdjc:
What a beautifully written lyrical poem that did bring back to me the gracious luncheons in the heart of Chicago in the '40's,'50's and'60's. I really admire this author.
Posted 10/11/2018 10:26 AM
mjorlock:
Wonderfully vivid images. I have been to Paris and have lived this poem.
Posted 10/11/2018 10:07 AM
Sarah Russell:
Such wonderful memories. Thank you!
Posted 10/11/2018 09:55 AM
paradea:
Never been to Paris, but now I feel like I've been privy to a small piece of time there. Thank you.
Posted 10/11/2018 08:36 AM
Sharon Waller Knutson:
I love Andrea Potos poems because they are so well written and picturesque and she takes me to countries where I have never been. With beautiful language, metaphors and insight, she helps me to appreciate the artistry of the professional waiters who swish and dart on the tree lined boulevard in Paris careful not to step on pigeons.
Posted 10/11/2018 08:15 AM
Jancan:
The poem paints a vivid, appealing picture. Janice
Posted 10/11/2018 08:01 AM
Jean Colonomos-1:
As a Francophile, I appreciate your celebrating French waiters where their work is considered an honored profession.
Posted 10/11/2018 07:39 AM
pwax:
Well done! At one time some New Orleans restaurants had waiters such as these.
Posted 10/11/2018 07:09 AM
Larry Schug:
This poem transports me.
Posted 10/11/2018 07:08 AM
Michael:
Thank you, Andrea, for this touch of elegance to begin my day.
Posted 10/11/2018 06:48 AM
Alarie Tennille:
As a francophile and poet, I love this.
Posted 10/11/2018 04:45 AM