Just before dusk
empty logging truck pulls into
the driveway like a carcass
picked clean.
Fire flares up in the backyard,
cases of beer appear.
Country music rolls out
from car stereos.
Bearded men in flannel shirts
sit on stumps, broken
chairs, shoot off their mouths
and fireworks.
All night long vehicles
in need of mufflers
come and go
changing the songs.
†
In the field across the road
deer graze unfazed by
the commotion.
†
They know itís not November.


From Caught between Coasts (Clover Valley Press, 2018).
This poem first appeared in Embers and Flames.
Used here with the author's permission.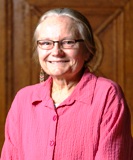 Jan Chronister is the current president of the Wisconsin Fellowship of Poets. Author of two chapbooks, her first full-length collection has just been released by Clover Valley Press. Jan lives in the woods near Maple, Wisconsin with her husband; learn more about her at www.janchronisterpoetry.wordpress.com.
TheSilverOne:
Enjoyed your poem, Jan! ~ Doris Bezio
Posted 10/13/2018 12:00 AM
Jo:
I second Janet Lehey's comment about Jan's fine leadership of the Wisconsin Fellowship of Poets. Enjoyed all the sounds in the poem. Very visual too.
Posted 10/12/2018 07:36 PM
Lori Levy:
Great job of capturing this scene.
Posted 10/12/2018 03:20 PM
njc:
Jackpine savages in all their glory--and the deer wasting no energy on them! Nice.
Posted 10/12/2018 09:25 AM
Janet Leahy:
I can hear the vehicles in need of mufflers, the music, the fireworks, but the smart ending is my favorite: the deer who know that for a bit longer they can "graze unfazed." Thanks to Jan for her fine leadership as president of the Wisconsin Fellowship of Poets.
Posted 10/12/2018 09:12 AM
wordartdjc:
Although I never experienced this 'hoopla' of the potential 'hunters', this poem certainly captures it. Great!
Posted 10/12/2018 08:41 AM
Sharon Waller Knutson:
Very clever, picturesque and insightful. I can relate to it. I loved the hunting simile: like a carcass picked clean. Deer seem to know when it is hunting season even though the hunters out here don't seem to care. They shoot anyway. The deer usually see the gun and run faster than the bullet.
Posted 10/12/2018 08:33 AM
Charly:
I see it all! Very nice poem.....
Posted 10/12/2018 07:17 AM
Larry Schug:
I like the opening image and the way the fire sheds light, real and metaphorical.
Posted 10/12/2018 06:59 AM