Wildflowers,
Cinquefoil and Gold-Fields,
Grow in the dry streambed -
Impatient blossoms bursting
Into galaxies of golden novae,
Swirling about their stellar business,
Obscuring the fact that
El Niño's reluctant tears
Failed to resurrect
Even an hour of ripples
In Mission Creek.
 
© by Robert Walton.
Used with the author's permission.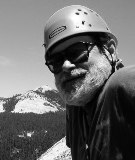 Robert Walton retired from teaching after nearly forty years. He is also an experienced climber and mountaineer who has climbed in Yosemite, the Sierras and, especially, Pinnacles National Monument, his "home crags." Robert writes fiction as well as poetry; his novel, Dawn Drums, won first place in the 2014 Arizona Authors Association's literary contest, as well as the 2014 Tony Hillerman Best Fiction Award. Learn more about him here.
Lori Levy:
Like the way this poem portrays the dryness of the creek.
Posted 10/13/2018 06:41 PM
Arlene Gay Levine:
A thoughtful, touching poem on a pressing issue...love 'Swirling about their stellar business"
Posted 10/13/2018 12:37 PM
Michael:
Like your title, Robert, and your skillful use of language. Well done!
Posted 10/13/2018 08:27 AM
Larry Schug:
Nice word/picture of a dry stream bed, a feature of the landscape I find worthy of a poem.
Posted 10/13/2018 07:18 AM