In all the things of nature
there is something of the marvelous—Aristotle

Trumpets of desert sand verbena
and leafy coastal sagewort nestle in

with paintbrush and seaside daisies,
ageless blooms at home in the dunes

inside the whip of wind and weight of fog,
facing the rocky cove's icy tides and surf.

Beneath a sky a spray of constellations,
lovers pass by snuggling into each other,

their windswept laughter a night song
drifting past plumes of pampas grass.


© by Andrena Zawinski.
Used here with the author's permission.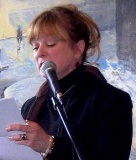 Andrena Zawinski, born and raised in Pittsburgh, Pennsylvania, now lives in the San Francisco Bay Area, where she runs a Women's Poetry Salon and is features editor of PoetryMagazine.com. Andrena has published eight books of poetry, three of which are full collections; the latest is Landings, from Kelsay Books. Andrena's poetry has received accolades for its free verse, lyricism, spirituality, form, and social concern. Learn more about her at www.poetrymagazine.com/zawinski.
KevinArnold:
I was just down at the beach by Watsonville for three days, so this really resonated with me.
Posted 10/19/2018 05:11 PM
wordartdjc:
My California daughter has enjoyed the beauty of this place for many years on holiday. This poet describes it beautifully.
Posted 10/18/2018 09:37 AM
cork:
Capturing place in poetry is powerful.
Posted 10/18/2018 08:23 AM
michael escoubas:
Thank you Andrena. As a contemplative myself, I regard your poem as nothing short of masterful!
Posted 10/18/2018 07:23 AM
Larry Schug:
Aa beautiful painting of words and sound.
Posted 10/18/2018 06:53 AM