The French Poodle is a German breed.
New York was founded on a Dutch deed.
I was often confused 'til I realized
Things aren't always as advertised.
†
© by Kevin Arnold.
Used with the authorís permission.
†
†
†
†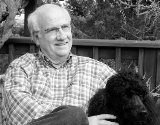 Kevin Arnold holds an MFA in Creative Writing from San Jose State University. Based on a story extracted from one of his novels, the San Francisco/Peninsula California Writer's Club named him Writer of the Year for 2014-2015. Kevin enjoys skiing and playing competitive tennis and duplicate bridge. He likes Bailey's, Johnny Cash, Kelsea Ballerini, Willie Nelson, and has a soft spot for Judy Collins. Learn more about Kevin at
www.kevinarnoldauthor.com
.
barbsteff:
I knew about ew York but not poodles. Wish you'd expanded this clever poem a little.
Posted 10/17/2018 10:22 PM
Lori Levy:
Short, but makes a good point.
Posted 10/17/2018 09:52 PM
Jo:
Thanks, Kevin I would have never known. You say a lot in this brief poem.
Posted 10/17/2018 01:28 PM
Sarah Russell:
They're smart too. Poodles. Not as sure about the Dutch, but probably.
Posted 10/17/2018 12:58 PM
michael escoubas:
Truth never more plain, Kevin! Thank you.
Posted 10/17/2018 11:43 AM
peninsulapoet:
Tula the poodle--standard, of course--quite agree!
Posted 10/17/2018 10:39 AM
wordartdjc:
Cute, if I can describe it so!
Posted 10/17/2018 10:15 AM
Janet Leahy:
There is wisdom and a word of warning here, great title.
Posted 10/17/2018 09:15 AM
cork:
Oh, the levity of brevity!
Posted 10/17/2018 08:38 AM
Larry Schug:
Boy, ain't that the truth!
Posted 10/17/2018 07:35 AM